Packed with activities and spectacular sites, Lanzarote is a popular destination among visitors and adventure-seekers. The fourth-largest Canary Island is more commonly known as the home of the famous Timanfaya National Park and works of Cesar Manrique. With 300 volcanic cones and extraordinary lava fields, Lanzarote features one-of-a-kind geology that will leave you breathless.
So keep reading as we talk about the 6 Lanzarote restaurants for a gastronomic adventure.
Things to do in Lanzarote
Lanzarote nightlife is also an experience you shouldn't miss. There's the Music Hall Tavern or the Rancho Texas Country Night that will keep you laughing all night long! But apart from these excursions in Lanzarote, the island is also known for its offers of gastronomic experience that will surely keep you wanting for more.
Best Lanzarote excursions: Eating
Excursions in Lanzarote often involve the sea, and rightly so because this is what the Canaries are known for. But we want to make sure that your trip isn't limited to the Lanzarote nightlife or the ocean adventures. The best way to learn and enjoy a culture is through their food. Which is why we're sharing Lanzarote's top 6 best restaurants: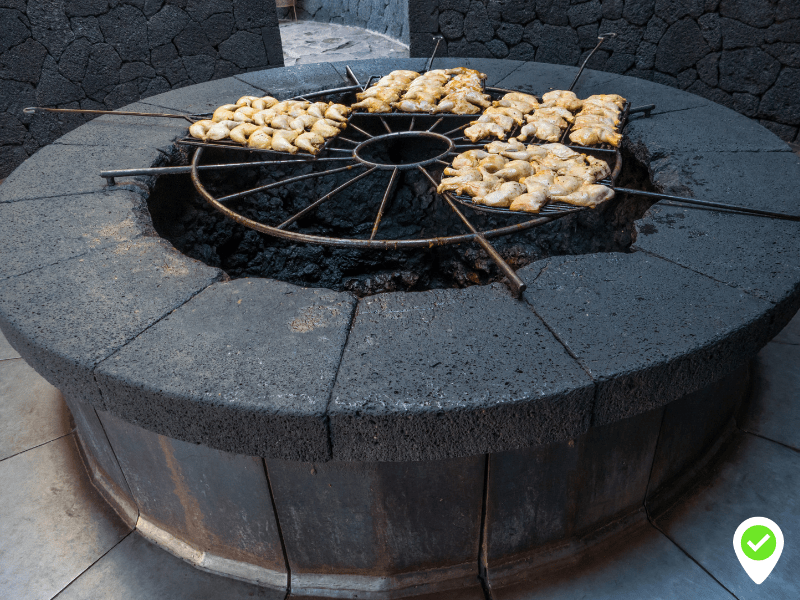 1. The Firemountain Restaurant: El Diablo
The Timanfaya National Park is one of the most popular excursions in Lanzarote. But a unique experience in the park is dining at El Diablo. Apart from its perfectly designed exteriors that feature glass walls giving diners a 360 view of the park, the way they cook food is what sets it apart. How? By grilling food on a pit that gets geothermal heat. Now, this is eating kebabs on a whole other level! You can get to the park by going on the South tour. Eating at El Diablo isn't included in the tour, but you will have a chance to diner there.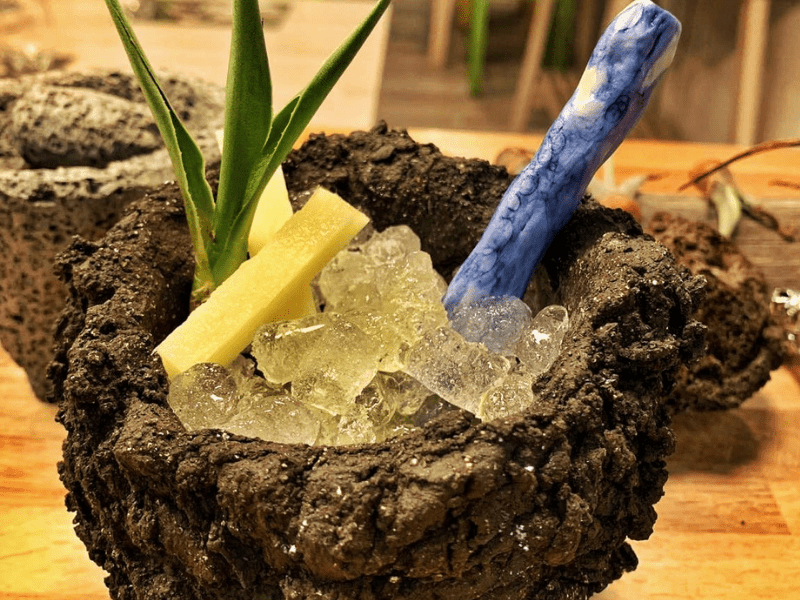 2. Coentro one of Playa Blanca Restaurants
Coentro has been a popular restaurant in Playa Blanca since it opened in 2018. The restaurant's chef, Joao Faraco, was voted as the Canaries' best chef and he does not disappoint. Although Coentro is located quite far from the centre and the exteriors are quite ordinary-looking, the food is well worth it. Upon entering, you'll be given a tapas menus and a tasting menu. The tasting menu features seven courses, which will all be explained in detail by your assigned server. Coentro gives excellent service, value for money and amazing food you'll surely come back to.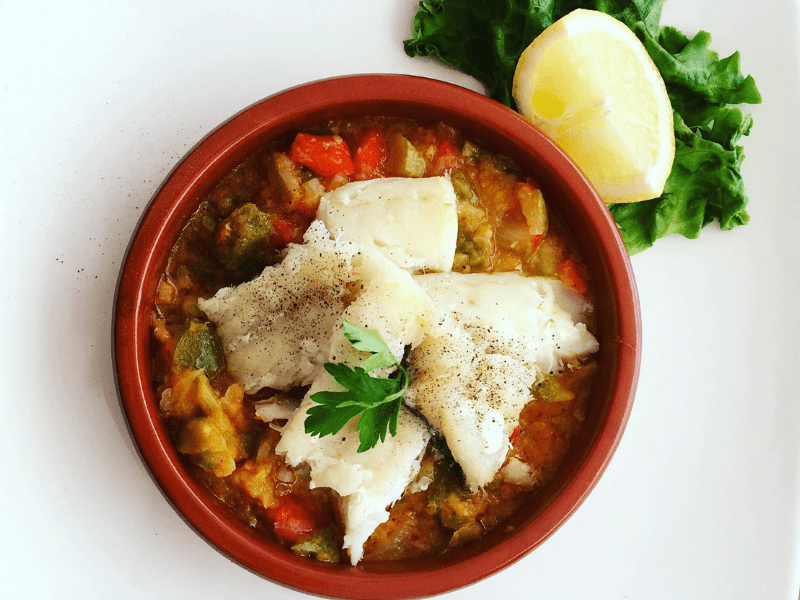 3. La Carmencita del Puerto
If you didn't know yet, Spain is known for its Tapas and La Carmencita del Puerto serves some of the best ones! Opened in 2016, this restaurant in Avenida de las Playas has quickly gained attention not just from visitors but from locals as well. The owners serve as the chef and the hostess and enthusiastically discuss the menu to diners so you can get tips directly from them. Enjoy their tapas with fairly priced wine or lager. If you want to have an authentic tapas experience in the Canaries, be sure to swing by La Carmencita del Puerto after your excursions in Lanzarote.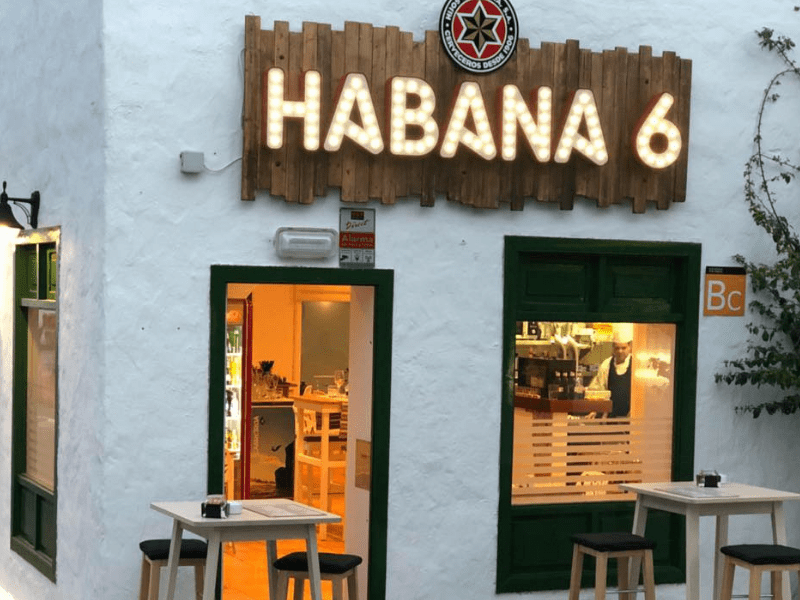 4. Top Costa Teguise Restaurants: Habana 6
If you're in the Costa Teguise area, you would want to dine at Habana 6. Aside from its Instagrammable exteriors and interiors, the food and drinks here are surprisingly great. We say surprisingly because from the outside it doesn't look as extravagant as the others. But with its extensive menu, you'd have a wide range of fish and meat dishes to choose from. They also offer exceptional wine- both red and white. While waiting, you'll be served bread that's freshly baked paired with their Alioli. The restaurant is located in Calle Mayor 6 in Costa Teguise, and is open from Tuesday to Sunday and is closed on Mondays.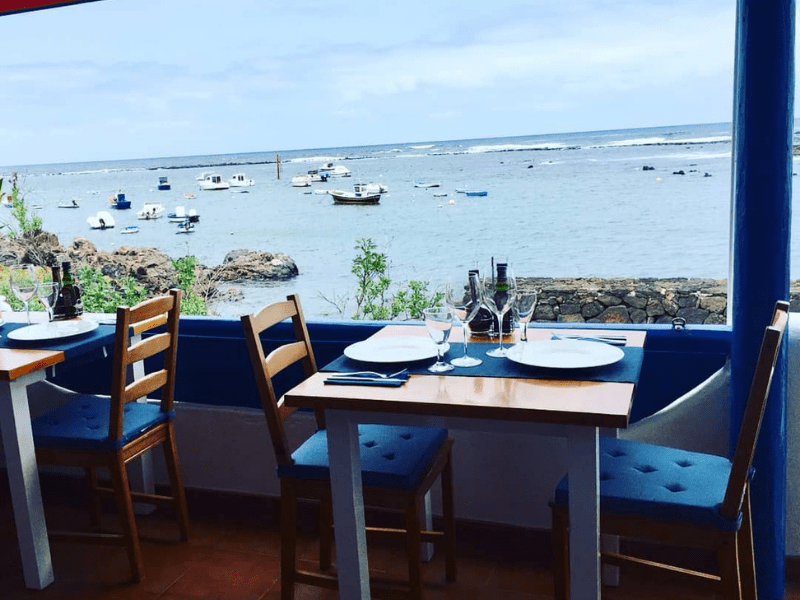 5. Restaurant Mirador El Roque
Found in the charming fishing village of Orzola, Mirador El Roque features some of the freshest seafood dishes. What makes it better is they also offer sirloin steaks so you can just imagine the variety in their menu! From prawns to meat or rice dishes, this restaurant knows how to please your palate. The owners have had over 15 years of experience so you're sure to be satisfied here. Whether it be with your partner, your friends or your family, you'll definitely enjoy this restaurant. You can even consider it as one of your excursions in Lanzarote because you can take a stroll along the pier or even take a ferry to Isla de La Graciosa.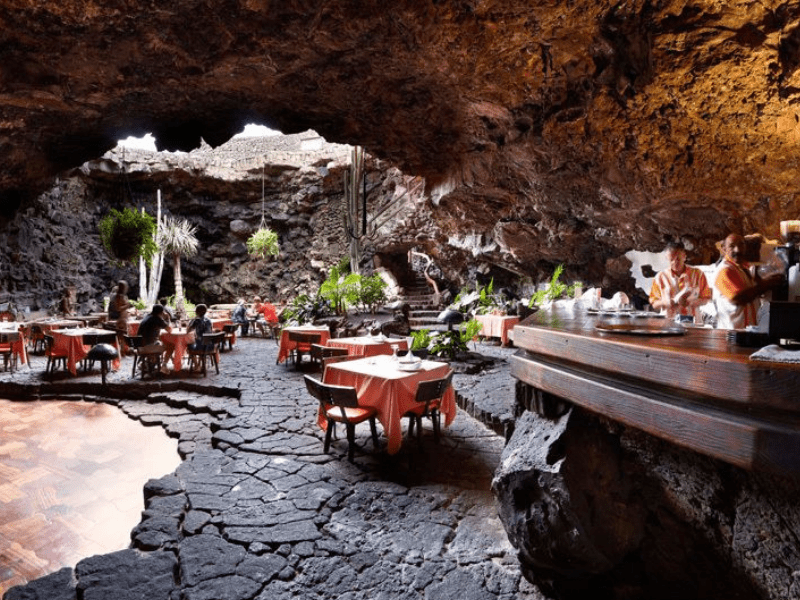 6. Jameos Del Agua Cafe: dining under Lanzarote Caves
Jameos Del Agua is a network of open-air caves created by a volcanic eruption. The first cave is home to a unique bar/restaurant, with views over a small lake. Enjoy dining and wonder as you go on through a unique experience while dining inside the caves and enjoying Lanzarote's food and sceneries.
We hope this list of 6 Lanzarote restaurants for a gastronomic adventure has given you a new perspective about the island. It's not just about Lanzarote nightlife or beaches, it's also about food and that gastronomic delight that you get from your trip. Make sure you get a well-rounded trip and fill your camera rolls with not just Lanzarote's beautiful sceneries, but with drool-worthy food as well! Let TravelON World take you to exciting excursions filled with food, fun, and memories!