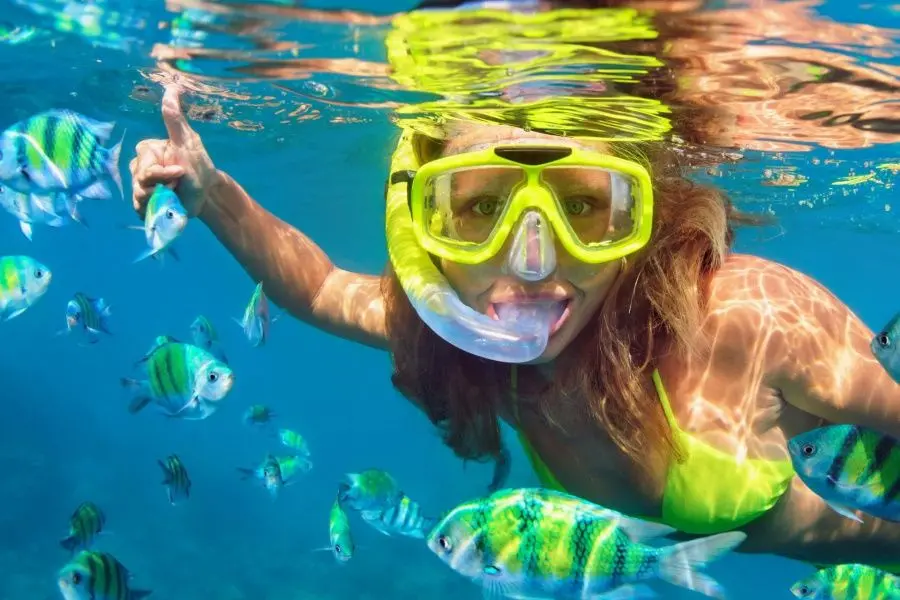 In a place as extraordinary as Lanzarote, numerous sights and attractions lure travelers from around the world. The island's astonishing volcanic landscape alone will attract any nature lover, but there's so much more to the island than meets the eye.
Incredible beaches
The beaches in Lanzarote are among the popular tourist spots in Canary Islands. The beautiful Lobos Island is a tourist favorite; as you make your way to paradise, you get to enjoy the stunning vista of the coastline of Lobos, Lanzarote, and Fuerteventura. A volcanic island, Lobos Island boasts clean blue waters and dramatic volcanic cliffs. Here you can simply lounge around while soaking up incredible views or snorkel in the crystal clear waters. Book a tour here.
If a different kind of beach is what you're after, however, head to Playa Quemada Beach, translated as the Burnt Beach, which is home to black volcanic sand. One of the unique places to see in Lanzarote, it's an ideal spot for people who hate crowds since it's not as popular as the other beaches on the island. Here, the place's tranquility and calm waters are enough to keep you company.
Unique adventures
Lanzarote will satisfy any traveler with its extraordinary activities. If taking on adventures in Lanzarote is your goal, why not go underwater via the submarine safari? This unique activity takes you to the stunning marina of Puerto Calero and on a once-in-a-lifetime submarine ride. As you descend 30 meters below the water, you'll enjoy an incredible sight of marine life swimming past. That's not all, however, as you also get to visit two shipwrecks teeming with different underwater creatures. Click here to book.
Night fishing is also among the unique activities you can enjoy in Lanzarote. Go out into the night and enjoy the beautiful sunset on the island. Afterward, prepare to catch gems in the sea, with manta rays and hammer sharks as possible catches. If you visit from February to March, you get to catch tuna; Marlin from June to November; Greater Amberjack during the summer, autumn and part of winter; and the Wahoo during summer and autumn as well. Book your night fishing tour here.
Bustling markets
Love shopping? Visiting markets to score great finds and local products is also among the fun things to do in Lanzarote. Teguise Sunday Market offers the best cheese and great bargains on handicrafts, jewelry, and wine. Playa Blanca Market, meanwhile, offers numerous designer shops with Marina Rubicon boasting a posh setting surrounded by beautiful yachts and cruises along the harbor.
Fun water parks
Let your children join in on the fun by visiting different water parks in Lanzarote. Besides Aqua park Costa Teguise and AquaLava Playa Blanca, you can head to Rancho Texas where you and your kids can watch adorable sea creatures and even interact with them. Rancho Texas allows you to interact with dolphins—kiss them, dance with them, or simply watch them swim and play! Click here to book!
Vibrant nightlife
After an entire day of visiting Lanzarote attractions, it's only right to unwind, and there's no better way to do that than by experiencing the vibrant nightlife in Lanzarote. The nightlife scene on the island treats you to an endless night of comedy, whether you decide to experience the Rancho Texas Country Night or enjoy the Music Hall Tavern production. Rancho Texas Country Night fills your evening with laughter with a comedy showdown between Billy Bob and the Long Ranger, as well as lively performance from The Texas Bandits and Calamity Jane. Meanwhile, Music Hall Tavern will leave you singing and dancing with its combination of fun music and hilarious drag show antics.

Get the latest deals
For the latest deals on the best things to do on your holiday sign up for our newsletter, don´t worry we hate getting junk mail too so we will only send you things that are relevant to your travels, can save you money and give you ideas on excursions in destinations all around the world.