Siam Park
Voted as the number one water park in the world for five years in a row, Siam Park has set the bar high for waterparks worldwide. Found in the south of Tenerife, Siam Park Costa Adeje has an area of 18 hectares that features not just rides, but lots of other attractions as well. With over 10 rides and lots of relaxation spots to chill in, Siam Park is a perfect place to visit with your friends and family because there's an activity for every age and every mood.
Ready to visit the park yet? Let this be your complete guide to Siam Park where you will find everything you need to know from Siam Park ticket details, to where to eat and how to get there.
Siam Park Tickets: Things You Need to Know
Siam Park Hours
Siam Park is open the whole year! During the summer months which is from May 1 to October 31, the park opens at 10 AM and closes at 6 PM. The rest of the year, it still opens at 10 AM but closes an hour earlier.
If you want to avoid the crowd, Sundays are the quietest days. Tuesdays and Fridays are also less crowded as they are changeover days, or days when visitors leave and arrive. But if you come in the summertime, the holidays or whenever school is out, then Tuesdays, Fridays and Sundays wouldn't be too different from the rest of the week.
The best time to go would be right before opening as the lines start getting long past 10. At 11 AM, it gets even more crowded because the free shuttles start arriving. Booking with TravelON World includes a shuttle that can take you there as soon as it opens.
Siam Park Tenerife Prices
Basic Entrance Tickets in Siam Park
There are a couple of ticket options to enter Siam Park Costa Adeje. The basic entrance ticket starts at 37 Euros per adult (age 12 and up) and 25 per child while children below three years old are free. If you come back for a second day, you can get a half-price deal.
Premium Siam Park Tickets
You can also get Premium Siam Park tickets that come with lunch, towel and locker use. These go for 54 Euros for adults and 38 for kids. There's also an entrance and lunch option that go for 51 and 33 Euros for adults and kids respectively. This option doesn't include towel and locker use though. When you buy the combo that includes lunch, you will have a lunch voucher worth 15 Euros for adults and 9 for kids which you can redeem at the Beach Club or Thai House restaurants found in the park.
We recommend you get your Siam park entrance tickets first and then decide if you want to upgrade later.
When are Peak Months for this Tenerife Waterpark?
Since it has been consistently voted as the world's best waterpark, Siam Park has been getting a lot of attention and can get really crowded. In fact, it caters to more than 1 Million visitors each year and thousands daily. During the peak months of July and August, it can get super packed. This is why it's really necessary to get a Fast Pass ticket because some lines take one to two hours just to get on one ride and you don't want to end up going on just four or five rides the whole day.
Siam Park Fast Pass Ticket
A Fast Pass ticket costs 15 Euros each and can only be bought once you've entered the park. This lets you skip the line once on each ride. Be sure to come early and buy them quickly though because they run out as soon as the park opens. Trust us, this pass is worth every cent and you'll realize it every time you skip the long lines! On off-peak days like Sundays, some lines will only take as quick as 15 minutes, while busy days can get you waiting for as long as two hours. With a fast pass, lines won't take you longer than 10 minutes which guarantees you can get on each ride at least once during the day.
Why book with TravelON World?
The ride lines aren't the only lines you'd want to skip. Lines at the entrance and the ticketing booths get really long, chances are you wouldn't even get to the fast pass tickets before they run out. This is why it's a good idea to book with TravelON World. When you book with us, you'll get to walk right in. And if you come early enough, you might just score a fast pass ticket!
Extra Fees
Now if you don't plan on getting any of the special Siam Park tickets but would like to rent a locker or a towel, you can do those for a fee. It costs 3 Euros to rent a towel with a 5-Euro deposit while small lockers can be rented for 3 Euros and the big ones go for 5 Euros, both with a 5-Euro deposit as well. Don't worry about bringing a towel from your hotel or the security of your stuff while enjoying the whole day. There are also CCTVs around the park for safety and security. We recommend bringing just enough money for food and leaving your expensive jewellery and other valuables in your hotel.
How to Get There: Siam Water Park
1. Via Car
If you plan on driving to Siam Park, it's quite easy to get there. Coming from Santa Cruz south motorway TF1, you can take either exit 28 or 29. If you're coming from Adeje on the southern motorway, then you may take exit 28. Once you get there, there's a huge parking lot out front and it will cost you 4 Euros for the day. But we know a lot of the park's visitors are tourists and don't plan on renting cars so we're here to give you options.
2. Via Bus
Siam Park Costa Adeje also offers free bus service to guests in Playa de las Americas, Costa Adeje and Los Cristianos. The assigned bus stops at Los Cristianos are at CC Pasarela Shopping Mall and Hotel Sol Arona Tenerife. The CC El Duque, Fanabe Plaza and Ocean Park are the designated bus stops of Costa Adeje. These double-decker buses also drop off to the same areas.
Be aware though that these buses can get really crowded and no seats are guaranteed. You should also keep in mind that you would have to work your schedule around the bus hours. Boarding these buses also means you'll arrive at the same time as the rest of the crowd because most shuttles get there at the same time. You can also get Siam Park tickets for their shuttle service, which will add 13.5 Euros to your cost.
3. Via TravelON World
If you want to skip this hassle, you can book with TravelON World so you get to decide what time of the day you want to be picked up from your hotel. The best part is, there is no added cost because it's part of our service to you. Book with us so we can arrange your pick-up and drop-off times!
Siam Park Costs
So how much will you actually spend? If you buy regular Siam Park tickets, that's 37 Euros each plus shuttle service which costs 13.5, that would be over 50 Euros without food.
When you book through TravelON World, you will have a fast pass entrance ticket and a hotel pick-up all for just 37 Euros for adults and 25 for kids.It will also be hassle-free because we'll be arranging everything for you from pick-up to drop-off. You'll get to enjoy the park the whole day because you won't have to worry about scheduling and you can skip the ticket line and head straight for the entrance. As soon as you book on the TravelON World website, you will receive an e-ticket which you don't need to print.
Where to Eat in Siam Park
A question that's always asked is if guests are allowed to bring their own food to the park. The answer is no. Although water is allowed, a lot of visitors still try to sneak their own food in but bags get checked at the entrance so it would be a waste. It won't be a problem because there are a couple of restaurants you can choose from: The Beach Club is their main restaurant which you can find at the beach. Do not be fooled by its Thai architecture though, because it also serves western food.
The Tea House Bar and Creperie have a huge variety of crepes, teas and coffees that you can enjoy while taking a break from the rides. Sweet Siam offers the best desserts with lots of cakes and ice cream to choose from.
If you want to chill and have a drink while looking at the Mai Thai River, then you have to check out the Thai Bar. They have comfortable couches where you can enjoy champagne, cocktails or an authentic Sangria.
Then there's the Beach Bar that doesn't just specialize in mojitos and cocktails. It also serves barbecues and hotdogs which you can enjoy for a light snack.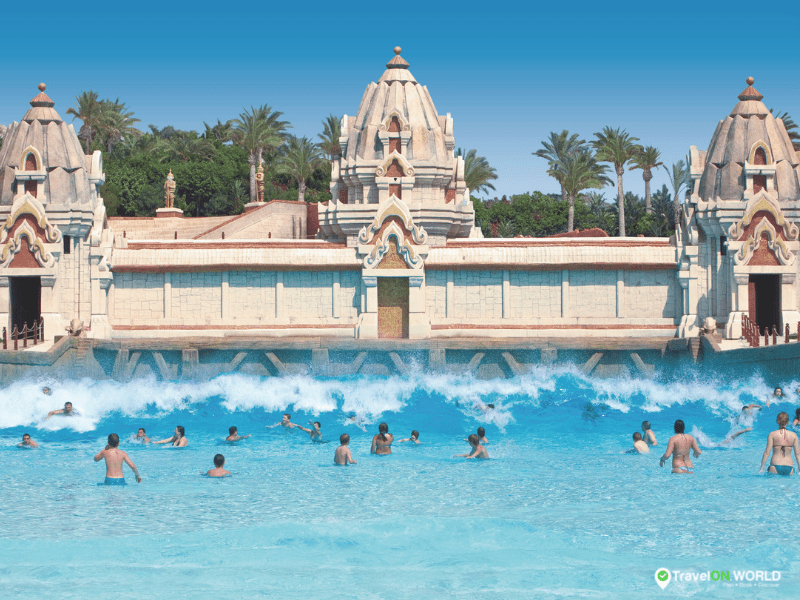 What Sets this Tenerife Water Park Apart?
Now on its 11th year of operation, the best waterpark Tenerife boasts of seven world records, which include the world's largest man-made wave, the greatest diversity in slides, the world's largest Thai building outside Asia and the world's first green water park. You can immediately tell this waterpark Tenerife is special. Owned by the Kiesslings, the park was opened by Maha Chakri Sirindhorn, the princess of Thailand. What sets it apart from other waterparks is its Siamese-themed architecture and it doesn't show in just the buildings. The slides are built around Thai structures which makes the whole park beautiful.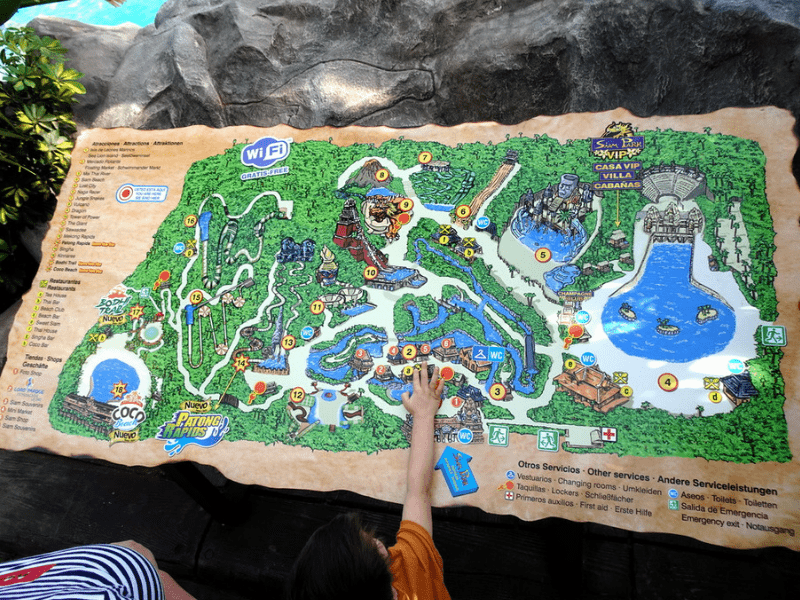 Getting around the Siam Park Map
When you get to the park, the first thing you need to do is grab a map of the park which they give out for free. Siam Park Costa Adeje is 43 Acres so you'd want to plan how to maximize your day and get to most if not all the best spots. After grabbing a map, head straight to a locker station and leave your valuables so you won't have to lug anything around. The best strategy would be to finish all the popular rides first because crowds start coming in towards lunch time.
After the famous ones like the Tower of Power, the Dragon and the Vulcano, you can just pick whatever ride you want to do. You can choose to go around the map clockwise or pick a number to start with since all the rides are numbered on the Siam Park map. After that, you can head to the beach area and grab a sunbed or couch. You can chill here and order some drinks. When you book with TravelOn World, time shouldn't be a problem because you'll have a guaranteed pick-up and drop-off time.
The park also offers the use of sun loungers, life jackets, tubes and umbrellas all for free. And get this, you won't have to worry about being able to post Instagram Stories and Snaps because there's free WiFi in the whole park!
Another feature that makes Siam Park special is you can celebrate your birthday, private parties, company events, musical events, sports parties, meetings, incentives, conferences and exhibitions here! They have a whole events crew ready to host your party needs. You can hold them at the amphitheatre, Siam beach or other spaces available for functions.
If you want to experience this one of a kind waterpark in a convenient way, our expert team at TravelON World is waiting to arrange this activity for you. Our customer service is available through our online chat system or through our local hotline ready to answer your queries!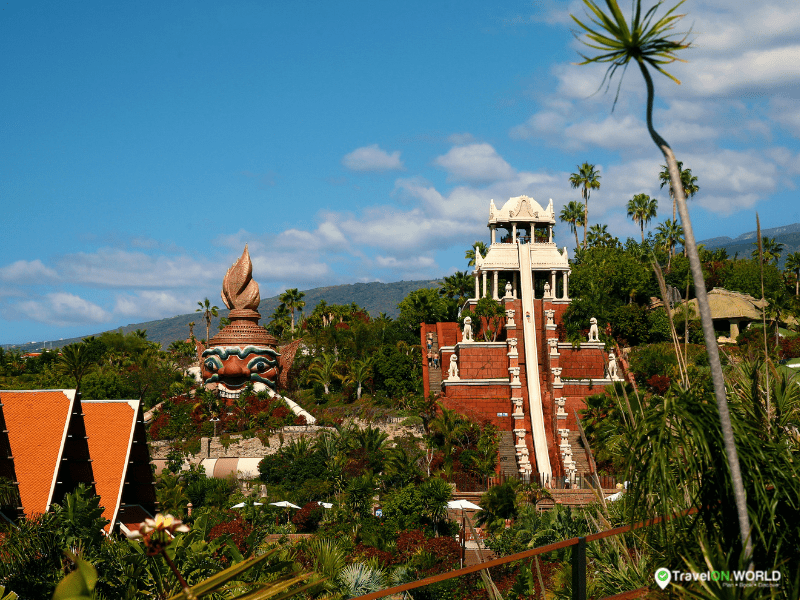 Tower of Power Siam Park and Other Rides
Some of the rides that made Siam Park Costa Adeje famous are the Tower of Power, The Dragon and Kinnaree. The Tower of Power features a drop of 28 metres that's almost vertical. Towards the end, you'll be submerged in a shark tank through a transparent tube before plunging into the pool. Lifeguards are on standby and you'd have to be 1.4 meters or taller to be allowed on the ride.
The Dragon lets you and three companions get on a raft that goes on full speed. You'll slide through a 20-meter wide tunnel, which will eventually drop and land in the pool. A height restriction of at least 1.25 meters is required to get on this ride.
Kinnaree, a fairly new attraction in the park, is 20 meters long and is 25 meters above ground. You'll experience turning and twisting like a snake and will feel the rush when the wave takes you down through what seems to be a jungle. Here, you'll enjoy magnificent views while still experiencing that adrenaline rush!
There are also other things to do after you go through the rides. The park has a man-made beach that you can relax in, there's the famous Mai Thai river that just takes you along the tide, and they also have a Floating Market where you can buy souvenirs, snacks and even some sun protection in case you forget to bring some!
Height and Age Restrictions for Siam Park Rides
Minimum height is also set at 1.25 meters. Although most rides only have height restrictions, there are still some that require a minimum age such as the Tower of Power at 14 years old.
As for the younger kids, there are a lot of water rides they can still go on because the rides have a height and not an age restriction. But for the even younger ones, the waterpark has two small areas for little kids, so the whole family can really enjoy their day out.
These are just a few of the rides that you can go on in Siam Park. Watch out for our complete list of Siam Park rides blog post to be able to map out which ones you want to go on first! If you go to the park with just regular Siam Park tickets, you would probably need the whole day to fully enjoy the rides. But when you book with TravelON World, you'll save a lot of time from queuing at the entrance and trying to figure out how to get to the park. You also won't need to worry about catching the last bus into town because you've arranged your drop-off schedule with us. We also recommend you get a fast pass after the entrance to maximize your time in the park. Waiting in line would be a waste of time, especially if you have a chance to skip it!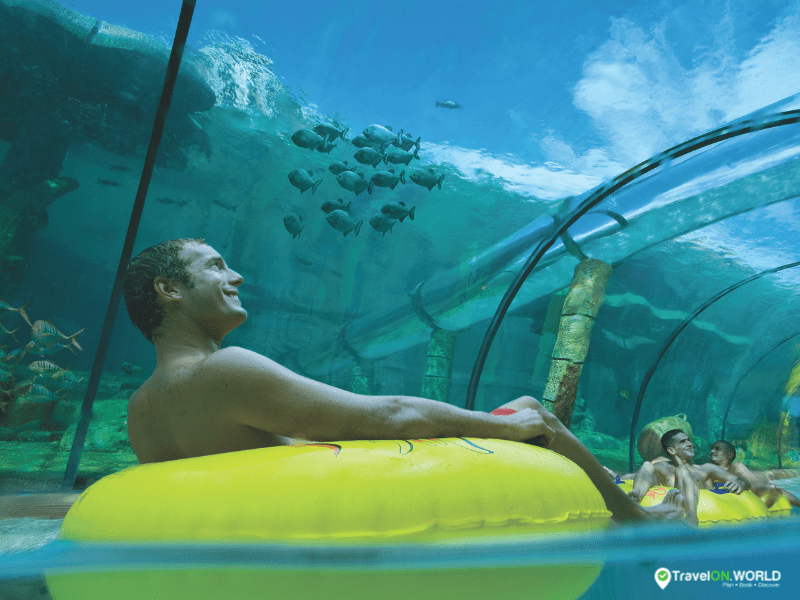 Other Tips to Enjoy Siam Park Holidays
TravelON World also offers Siam Park Loro Parque Twin Tickets for only 64 Euros for adults and 43.5 for kids. A regular entrance ticket to Loro Parque costs 37 and 25 Euros.
The best way to enjoy your Siam Park Holidays would be to buy your tickets ahead. TravelONWorld lets you book your tickets ahead of time through our website.
What to wear in Siam Park
On your visit to Siam Park, it's best to just be in your swimsuit. This way, you won't have to change and you can just go for the rides immediately. Just be sure to bring fresh clothes for when you go home. Also, it gets really hot and sunny during the day so you would want to put on some waterproof sunscreen and bring lots of extra!
Another detail that most visitors often overlook is the wearing of beach socks or slippers. Although it's fun to run around barefoot, the floors around the park are concrete which means they get really hot and are a bit rough to walk on.
What Cameras to bring in Siam Park Rides
You can also bring your GoPro or an underwater camera. If you want to bring them down the slides, you would have to wear them on a headband or a harness because you need to have your hands free to go on the slides. You could also bring your phones in a waterproof case but you wouldn't be able to take them down the slides. The staff are pretty strict when it comes to wearing loose things like jewellery. But if you're only staying by the beach or the Mai Thai river then it shouldn't be a problem.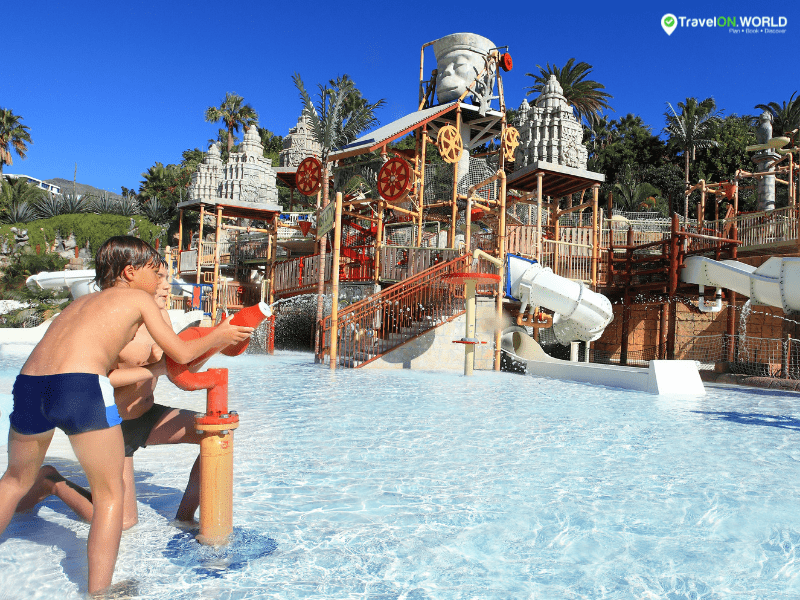 Safety and Security
To avoid accidents, be sure to follow the rules in every ride. Also, avoid running as the floors can get slippery. Don't worry though as there are lifeguards stationed on every ride and all over the park and there are first aiders and on-call doctors there too should any accident happen.
We hope your complete guide to Siam Park gave you all the info you need before planning your trip to the world's best waterpark! From knowing how to go, when to go, what to do and even what to wear, you'll definitely feel like a regular at Siam Park. For a complete list of activities and excursions, you can do in Tenerife, just visit the TravelON World website and we'll set you up with all the tours you want including a fun-filled adventure in Siam Water Park!