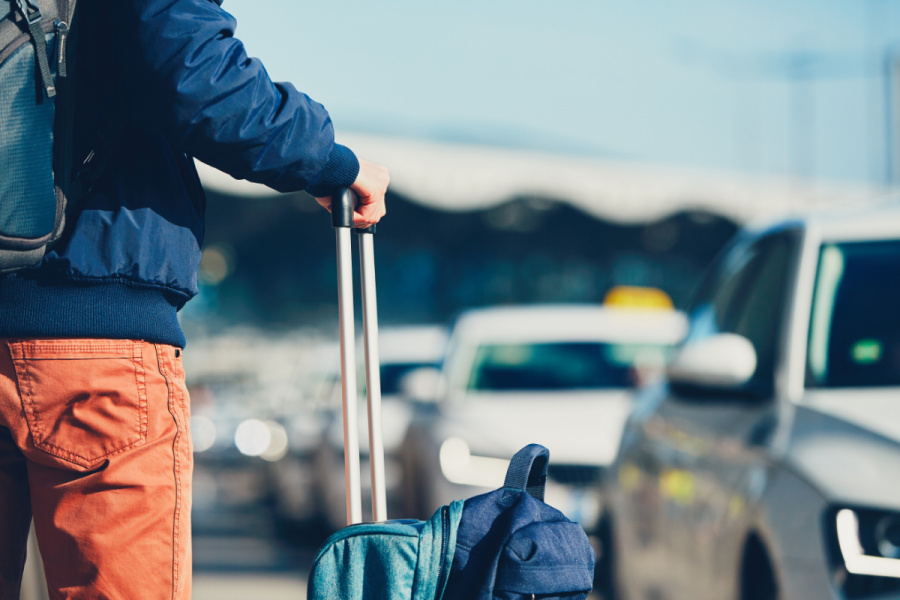 If you're going on holiday to Gran Canaria you might need to organise a transfer from the Airport to your resort / hotel. We look at the best options for airport transfers in Gran Canaria.
On social media platforms, one of the most asked questions about holidays to Gran Canaria is the best way to from the aiport to your accommodation. There are a number of ways you can do this depending on your budget, time of arrival and how convenient you want your transfer to be.
For many people, a private transfer from Gran Canaria Airport to the accommodation is preferred as it's more direct and personal, whilst other, perhaps regular visitors to Gran Canaria might opt for the cheaper public transport option.
Here are some of the best ways to get from Gran Canaria Airport to your holiday accommodation.
1. Shuttle Bus
A shuttle bus would normally be booked in advance and is often shared between a few small groups or families. Shuttle busses from Gran Canaria Airport would normally arrive in time for the arrival of a flight and then, once loaded with all the guests, would make its way to the accommodation.
Depending on how many people were sharing the shuttle bus would depend on how many stops it would make. If you are the first designated stop the journey to your accommodation could be quite quick, but on the other hand if you're the last stop it might take a while.
2. Private Transfers
Private Transfers are a popular option with holidaymakers and you can travel to your accommodation direct and in style. You can sometimes choose which type of vehicle you would like and a private driver will meet you at the airport and take you direct to the door of your hotel or villa.
Whilst a private transfer from Gran Canaria Airport to your accommodation is probably the most stylish and quickest way to travel, it will often be the most expensive.
3. Jump in a Taxi
Jumping in a taxi is a convenient way to get from Gran Canaria Airport to your accommodation, although not necessarily the cheapest. Taxis are available in abundance outside the airport so there is no need to book in advance, although you might find the price varies depending on the time of your flight arrival.
You can expect to pay at least the following prices for your taxi.
€35 to Las Palmas
€40 to Maspalomas
€55 to Puerto Rico
€30 to Playa del Ingles.
4. Hire a Car
If you plan on travelling Gran Canaria and seeing some of the sights then you might be looking to hire a car. If you book a hire car for the duration of your holiday you can pick it up and drop it off at the airport meaning you don't have to think about how to get from the airport to your accommodation and back. If you make good use of the car during your holiday this can actually work out a very cost effective, not to mention convenient option.
5. Public Transport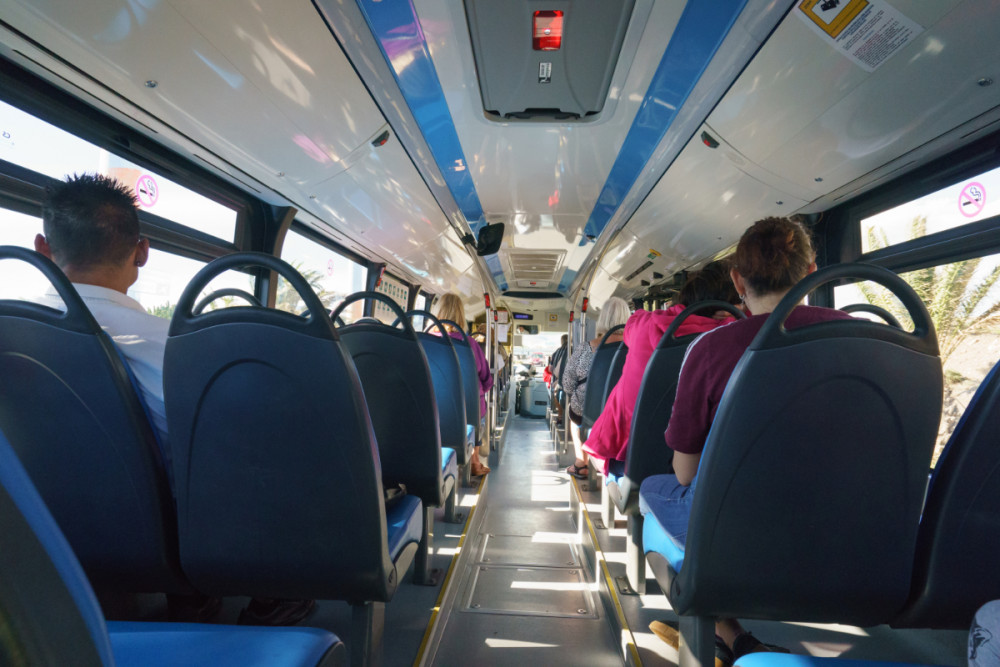 Public Transport in Gran Canaria is often clean, air conditioned and punctual, meaning that the public bus service is often a great way to get from the airport to your accommodation. One of the downsides to public transport is that it won't take you direct to your accommodation (unless you are lucky and there is a stop outside) so if you're travelling with a lot of luggage then a private Gran Canaria Airport Transfer might be a better option for you.
The bus stop at Gran Canaria airport can be found just across from the main terminal building. The busses run 24/7 and arrive / depart around every 20 minutes. You can head north towards the city of Las Palmas, or south towards Mogan and the holiday resorts. The blue busses are operated by Global Bus Gran Canaria and will take you all around the island, where as the yellow busses operated by Guaguas Municipales generally only go to the city of Las Palmas.
Some of the popular public bus service routes are as follows.
Route 1 Southbound akes you to Puerto de Mogan.
Route 11 Northbound takes you to Las Palmas de Gran Canaria
Route 91 Southbound takes you to Playa del Cura via Puerto Rico
Route 66 Southbound takes you to Maspalomas and Playa del Ingles
Deciding on a method of airport transfer for your holiday in Gran Canaria is a matter of personal choice, convenience and cost. Whilst some people might not mind an hour or two on a coach or bus before getting to their accommodation, others will prefer a swift journey so they can get quickly settled into their hotel or villa.
If you're visiting the island soon, check out some of our best things to do in Gran Canaria. From boat trips to hikes and tours there is something for everyone.