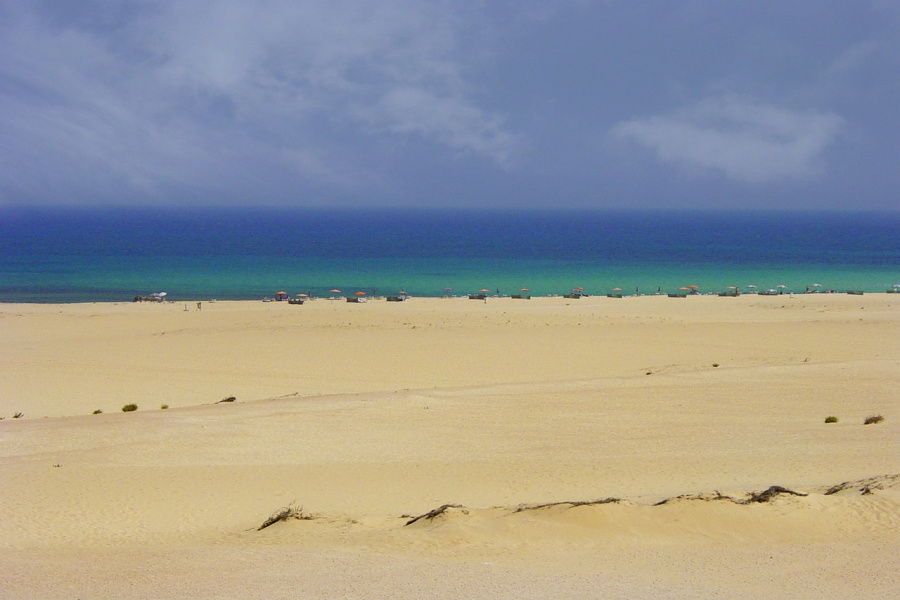 Fuerteventura, with its golden sandy beaches, crystal-clear waters, vibrant culture, and year-round sunshine, is a dream destination for traveller's seeking relaxation, outdoor adventures, and unique experiences. In this comprehensive guide, we will cover everything you need to know to plan an unforgettable holiday on this picturesque island.
Table of Contents
1. Introduction to Fuerteventura
When to Visit Fuerteventura Getting to Fuerteventura Holiday Accommodation in Fuerteventura Getting Around Fuerteventura Top Attractions in Fuerteventura Outdoor Activities Cultural Experiences Nightlife and Entertainment Safety and Health Tips Introduction to Fuerteventura Geography and Location
Fuerteventura, the second-largest of the Canary Islands, is located in the Atlantic Ocean, just off the northwest coast of Africa. Known for its diverse landscapes, it offers everything from vast sand dunes to volcanic mountains and pristine beaches.
Climate
Fuerteventura enjoys a subtropical desert climate, making it one of the driest and sunniest destinations in Europe. The average temperature ranges from 20°C (68°F) in winter to 28°C (82°F) in summer, with very little rainfall. The island's climate makes it an ideal year-round destination.
Culture and Language
The culture of Fuerteventura is influenced by its Spanish heritage and African roots. Spanish is the official language, but you'll find that many locals also speak English and German, especially in tourist areas. The island's culture is characterized by music, dance, and warm hospitality.
When to Visit Fuerteventura
Weather and Seasons
Fuerteventura is a great destination to visit year-round, but the best time for beach lovers and water sports enthusiasts is from May to October when the weather is warm and sunny. For those seeking a more tranquil experience with milder temperatures, the shoulder seasons of spring (March to April) and autumn (September to October) are ideal. Even in winter, temperatures remain pleasant, making it a suitable escape from colder climates.
Special Events and Festivals
Consider planning your trip around one of Fuerteventura's unique festivals. The Carnival of Puerto del Rosario in February and the Feast of Our Lady of the Rock in August are particularly vibrant and offer a glimpse into local traditions and customs. Additionally, don't miss the annual Windsurfing and Kitesurfing World Cup held in Sotavento in July and August, which attracts top athletes from around the world.
Getting to Fuerteventura
Flights
The easiest way to reach Fuerteventura is by air. The island has an international airport, Fuerteventura Airport (FUE), which is well-connected to major European cities. Airlines like Ryanair, easyJet, and Iberia offer regular flights to Fuerteventura. Depending on your location, flight duration can vary, but it generally takes around 4-5 hours from major European cities.
Ferry Services
If you're traveling from another Canary Island or mainland Spain, you can also reach Fuerteventura by ferry. Regular ferry services operate between Fuerteventura and neighboring islands like Lanzarote and Gran Canaria. The journey can be a scenic experience, offering beautiful views of the Atlantic Ocean.
Accommodations in Fuerteventura
Hotels and Resorts
Fuerteventura boasts a wide range of accommodations, from luxury resorts to budget-friendly hotels. Popular areas like Corralejo, Caleta de Fuste, and Morro Jable offer a variety of options to suit your preferences and budget. Be sure to book well in advance, especially during the peak tourist season.
Vacation Rentals
For a more home-like experience, consider renting a villa, apartment, or holiday home. Websites like Airbnb and HomeAway feature a variety of vacation rentals across the island, often with amenities such as private pools and stunning sea views.
Camping
Camping is permitted in designated areas on the island, providing a unique opportunity to connect with nature. The camping experience in Fuerteventura is serene, with sites nestled amidst the island's natural beauty. Be sure to check local regulations and obtain necessary permits before camping.
Getting Around Fuerteventura
Car Rentals
Renting a car is a popular choice for exploring Fuerteventura independently. Rental agencies are available at the airport and in major tourist areas. The island's road network is well-maintained, making it easy to navigate. Driving is on the right-hand side of the road.
Public Transportation
Fuerteventura has an efficient bus service that connects major towns and tourist areas. Buses are a cost-effective way to get around, although schedules may vary, especially on weekends and holidays. Check the timetable in advance for your convenience.
Cycling
With its flat terrain and scenic landscapes, Fuerteventura is a great destination for cycling enthusiasts. You can rent bicycles in tourist areas, and there are dedicated cycling routes and trails for various skill levels.
Camper Van Holidays in Fuerteventura
Camper van holidays in Fuerteventura offer a unique and adventurous way to explore the island's diverse landscapes, from its golden beaches to its volcanic mountains and remote villages.
Top Attractions in Fuerteventura
Corralejo Natural Park
Corralejo Natural Park is famous for its stunning sand dunes and pristine beaches. It's an ideal spot for sunbathing, swimming, and watersports like windsurfing and kitesurfing. The park also offers hiking trails with panoramic views.
Jandía Peninsula
The Jandía Peninsula, located in the south of the island, features long stretches of sandy beaches and crystal-clear waters. It's a peaceful and picturesque area, perfect for relaxation and beachcombing.
Betancuria
The historic town of Betancuria, founded in 1404, is a charming place to explore. Visit the Santa María Church, the Betancuria Museum, and enjoy the tranquil atmosphere of this ancient Canarian town.
Cofete Beach
Cofete Beach is a remote and rugged paradise on the southwest coast of Fuerteventura. The journey to reach this hidden gem is an adventure in itself, as the road can be challenging. Once there, you'll be rewarded with untouched natural beauty.
The best beaches in Fuerteventura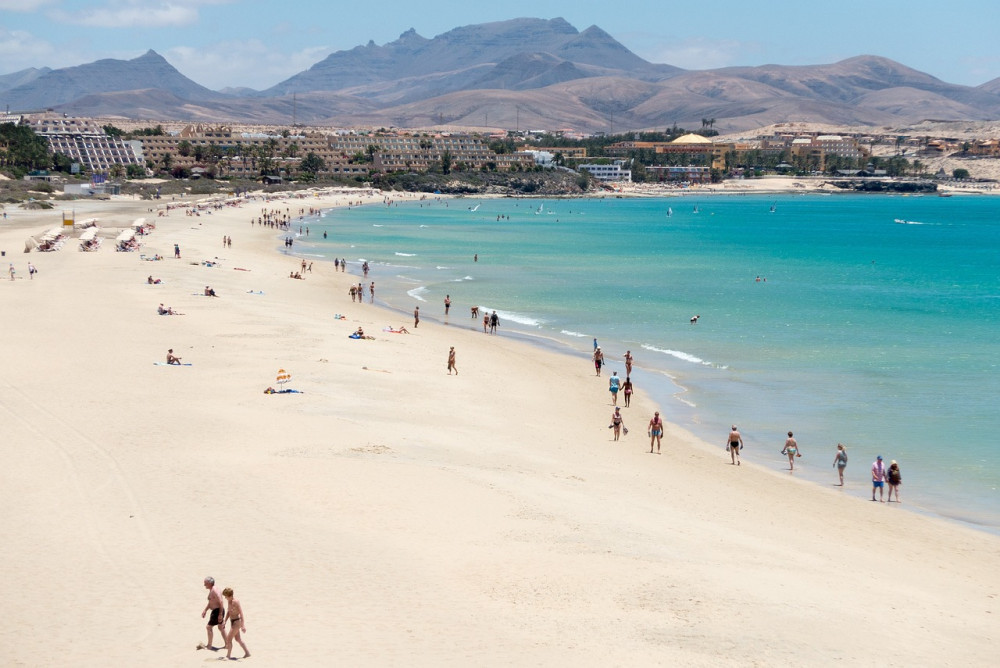 Fuerteventura is renowned for its spectacular beaches, offering miles of golden sand, crystal-clear waters, and a variety of coastal landscapes. Whether you're seeking a quiet escape or an active water sports adventure, you'll find the perfect beach in Fuerteventura. Here are some of the best beaches on the island.
Corralejo Beach
Located in the popular resort town of Corralejo, this beach is known for its soft, white sands and turquoise waters. It's an ideal spot for sunbathing and swimming. You can also take a short boat ride to Lobos Island from here.
Cofete Beach
Located on the remote southwest coast of Fuerteventura, Cofete Beach is a hidden gem accessible via a winding dirt road. It offers a rugged, untouched natural beauty with towering cliffs and vast stretches of sandy shoreline.
Sotavento Beach
This beach, located on the Jandía Peninsula in the south, is famous for its shallow lagoons and consistent winds, making it a paradise for windsurfers and kite-surfers. It's also great for sunbathing and swimming.
Playa de la Concha
Situated near the town of El Cotillo on the northwest coast, Playa de la Concha is a sheltered cove with calm waters, making it perfect for families. The beach is surrounded by natural rock pools, ideal for snorkeling.
Costa Calma
As the name suggests, this beach in the southeast is known for its calm waters. It's an excellent spot for swimming and windsurfing, and the nearby resort area offers amenities and water sports schools.
Playa de Sotavento (Risco del Paso)
Located on the Jandía Peninsula, Playa de Sotavento is a vast expanse of sand. During low tide, it transforms into a series of lagoons and shallow pools, providing a unique and picturesque landscape.
Playa de Ajuy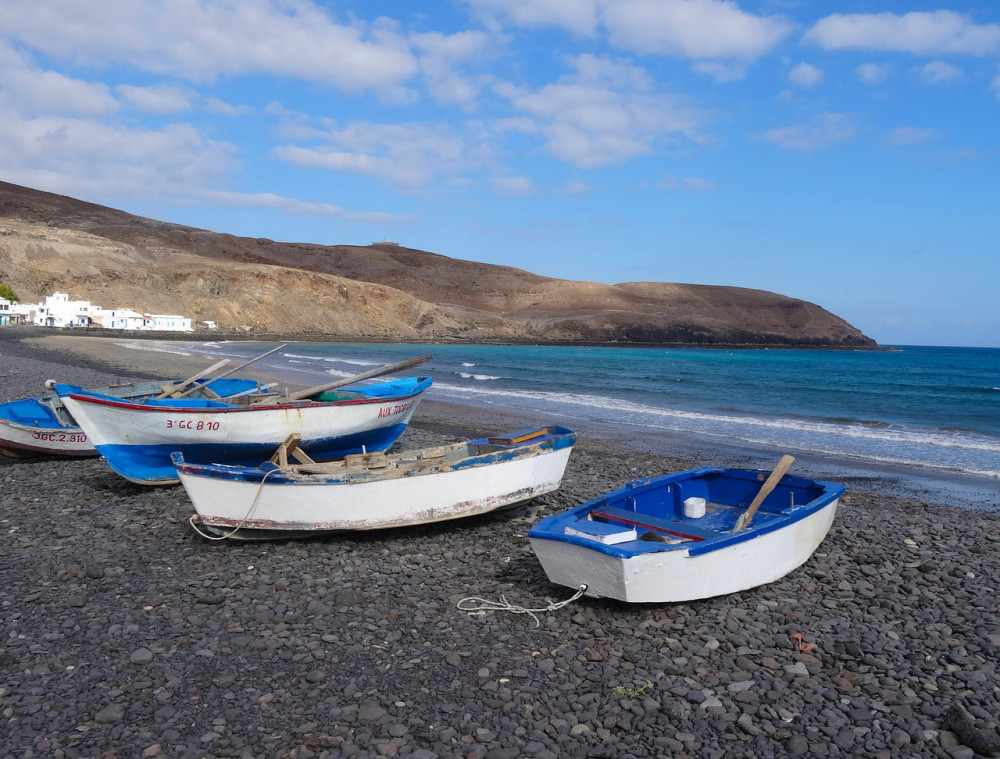 This beach, on the west coast of Fuerteventura, is famous for its black sand, formed from volcanic rock. It's a fascinating place to explore the nearby caves and enjoy the dramatic coastal scenery.
Playa Gran Taraja
Found in the town of Gran Tarajal, this beach offers a relaxed atmosphere and is popular among locals. You can enjoy a leisurely swim or indulge in fresh seafood at nearby restaurants.
Playa de Esquinzo
Situated on the east coast, this beach is known for its tranquility and stunning views of the coastline. It's a great spot for walking, and its clear waters make it suitable for swimming and snorkeling.
Playa de Jandía
Located near the town of Morro Jable in the south, this beach stretches for several kilometers and is perfect for long walks along the shoreline. It offers a mix of calm and more wave-prone areas.
Tours and Excursions in Fuerteventura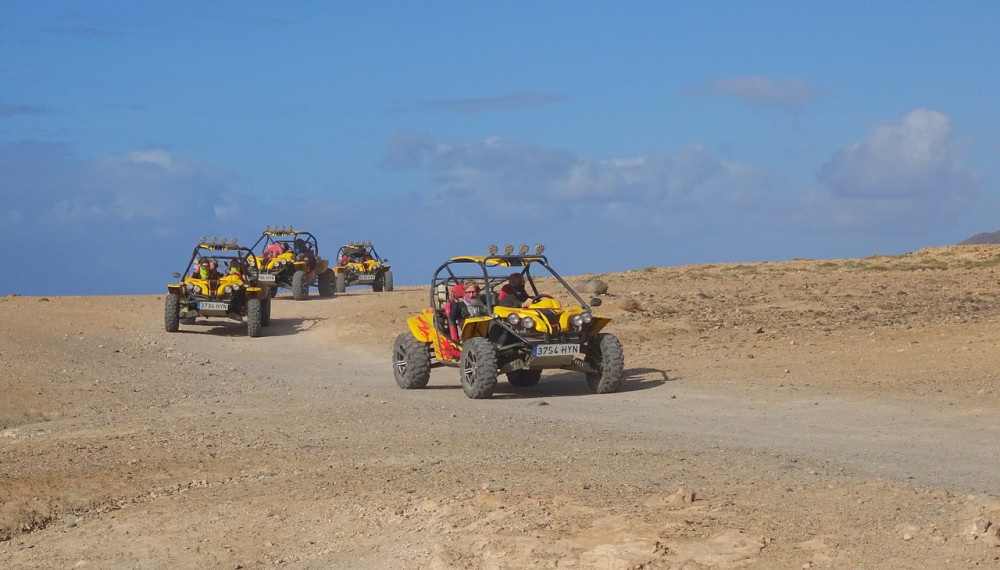 If you want to get out and explore the island then a Fuerteventura Excursion is one of the best ways to do it. Discover the best parts of the island, including Oasis Park, El Cotillo, Jandia and the National Park and enjoy the comfort of being transported around to the best places to see and visit in an air conditioned coach.
Outdoor Activities in Fuerteventura
Water Sports
Fuerteventura is a mecca for water sports enthusiasts. Try windsurfing, kitesurfing, surfing, or paddleboarding in some of the best conditions in the world. The island offers numerous schools and rental shops for beginners and experts alike.
Hiking and Trekking in Fuerteventura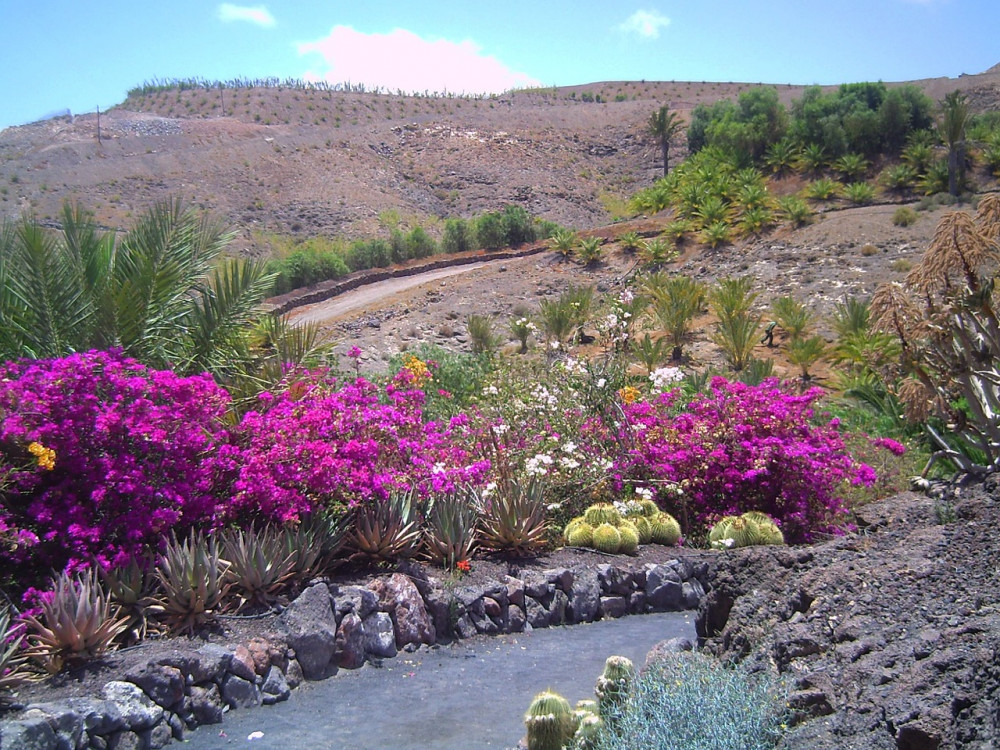 Discover Fuerteventura's diverse landscapes by hiking or trekking. Explore volcanic craters, ravines, and coastal trails. Popular routes include the Tindaya Mountain hike and the Morro Velosa trail.
Cycling
Cycling is a fantastic way to explore the island's natural beauty. There are designated cycling routes suitable for all levels of cyclists, from leisurely rides along the coast to challenging mountain trails.
Fuerteventura Golf
Fuerteventura is home to several golf courses, including the Fuerteventura Golf Club in Caleta de Fuste. Golfers can enjoy stunning views of the Atlantic Ocean while teeing off on well-maintained courses.
The Fuerteventura Way. Culture and History
Canarian Cuisine
Sample the local Canarian cuisine, which includes dishes like "papas arrugadas" (wrinkled potatoes), "mojo" sauces, and fresh seafood. Don't forget to try "gofio," a traditional Canarian flour made from roasted grains. Many restaurants offer international cuisine as well.
Local Festivals
Immerse yourself in local traditions by participating in festivals and celebrations. Experience the lively Carnival of Puerto del Rosario, which features colorful parades and costumes, or attend a traditional "romería" (pilgrimage) to witness authentic Canarian culture.
Arts and Crafts
Explore local arts and crafts, such as pottery, ceramics, and jewelry, at markets and artisan shops. You can find unique souvenirs and gifts made by local artisans.
Nightlife and Entertainment
Bars and Clubs
Fuerteventura offers a variety of bars and clubs for those seeking nightlife entertainment. Corralejo and Caleta de Fuste are known for their lively nightlife scenes, with bars and clubs open late into the night.
Live Music
Many bars and restaurants host live music performances, ranging from traditional Canarian folk music to rock and jazz. Check local listings for venues featuring live bands or solo artists.
Traditional Dance and Festivities
Experience the island's traditional dances and folklore performances at local festivals and cultural events. These dances often feature colorful costumes and lively music.
Safety and Health Tips
Travel Insurance
Before your trip, ensure you have comprehensive travel insurance that covers medical emergencies, trip cancellations, and lost luggage. Verify that your policy is valid for Fuerteventura and consult your healthcare provider for any necessary vaccinations.
Emergency Numbers
In case of emergencies, the emergency number in Fuerteventura, as in the rest of Spain, is 112. Familiarize yourself with the nearest healthcare facilities and pharmacies to your accommodation.
Health Precautions
Fuerteventura is generally a safe destination, but it's advisable to take standard safety precautions. Keep an eye on your belongings, especially in crowded areas, and avoid displaying expensive items. Stay hydrated, use sunscreen, and be cautious when engaging in water activities.
In Summary
Fuerteventura is a paradise for nature lovers, beachgoers, water sports enthusiasts, and anyone looking for a tranquil escape in a sunny destination. With its stunning landscapes, rich culture, and a wide array of activities, Fuerteventura offers a holiday experience like no other. By following this ultimate guide, you're well-prepared to make the most of your visit to this beautiful Canary Island. Pack your bags, and get ready to create lasting memories on the shores of Fuerteventura!