Siam Park Tenerife is home to some of the best waterpark rides and attractions in the world including the Tower of Power, a 28 meter high vertical drop that sends you hurtling towards the ground at breakneck speeds. The award winning 43-acre Tenerife waterpark has 12 other rides you can choose from along with Instagramable spots that would look great on your feed!
Siam Park Tower of Power and other attractions
Not only the best waterpark in Tenerife, Siam Park boasts of seven world records, which include having the world's largest dragon statue, the world's largest man-made wave, the greatest diversity in slides, the world's largest Thai building outside Asia, increased elevation within the lazy river that reaches 8 meters, and the world's first green water park. The Tower of Power Siam Park is one of the most popular siam Park rides, featuring a 28-meter drop that will make you feel gravity's pull. Read on as we talk more about the Tower of Power Siam Park and 12 other rides to watch out for.
If you want to know more about Siam Park Tenerife, how to get there, where to eat, what to wear and other tips read Your Complete Guide to Siam Park Tenerife here.
The Tenerife Water Park is the proud location of some of the most exhilarating water slides you will ever encounter. For example, the "Tower of Power" is a 28 meter high vertical drop that sends you hurtling towards the ground at breakneck speeds. It's not for the faint hearted, but if you're up to the challenge it's highly recommended. The "Dragon" water slide is another Siam Park attraction that will take your breath away, as you spin around and around before being ejected into the deep pool below.
And remember, Siam Park isn't just about the big thrill rides. There's something for everyone here from the huge wave pool, with waves that reach up to 3 meters high, to the lazy river, where you can float around and take in the sights and sounds of the park. There's even a dedicated kids' section, so the whole family can have fun together.
Siam Park Tenerife Adrenaline Rides
If you're into adrenaline-pumping, jaw-dropping rides, then this waterpark Tenerife is perfect for you. When you enter the waterpark, make sure to get a map for a complete list of Siam Park rides and where to find the adrenaline rides. There are six exciting rides perfect for the young ones and the young at heart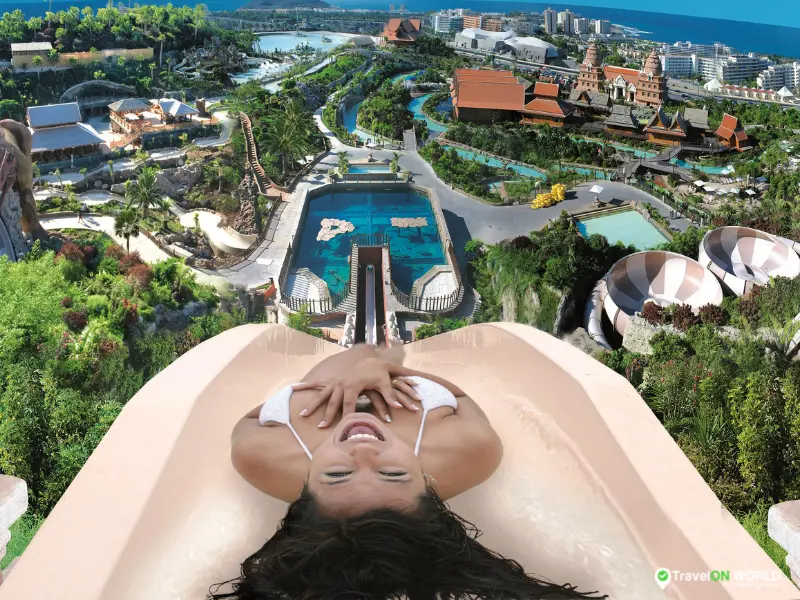 1. Tower of Power in Siam Park
The most popular ride of Siam park Costa Adeje, Tower of Power gets the bulk of the lines. But the experience is definitely worth the wait. The 28-meter drop goes as fast as 80 kilometres per hour and is practically a vertical drop. From the top, you will have a view of the whole waterpark Tenerife. Once you slide down, you will go through an underwater aquarium tunnel where you will see sharks swimming around- that is if you can keep your eyes open! The Tower of Power Siam Park is a one of a kind experience that visitors go on it at least twice.
You have to be at least 14 years old and 1.4 meters to experience this ride. Make sure you get to this ride early because fast pass tickets aren't accepted here and lines usually take from 30 up to 90 minutes during peak times.
2. The Vulcano
The Vulcano is a different experience from the rest of the Siam Park Costa Adeje adrenaline rides. You and three others will get on a clover toboggan as you slide into a totally dark tunnel. You'll be in awe when you see a laser light show as you get dragged by the current. But the real highlight is being sucked into what seems like a volcano's centre which will eventually drop you into the landing pool. Be sure to bring your underwater cameras strapped onto your head or chest because you're going to want to show off this Insta-worthy ride to your followers! Height requirement is at 1.25 meters.
The Vulcano is one of the most popular rides of the park and the line gets long, which can take you 30-60 minutes.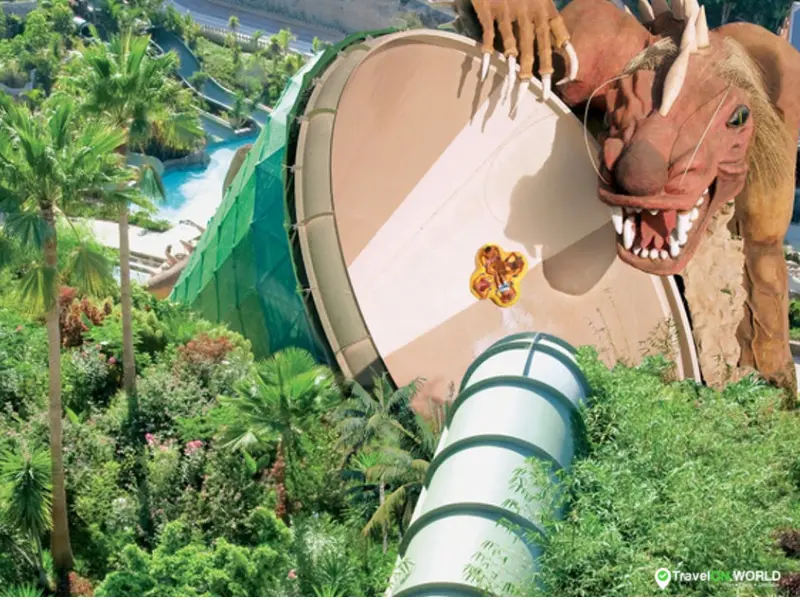 3. The Dragon
The Dragon is another group toboggan ride that will take you through a vertical funnel. The drop is 10 meters and the whole ride takes 40 seconds. But even if the ride seems quick, it will still get your heart racing as the current drags you around the funnel that's 20 metres wide until you drop to the pool. Before the final plunge, there's an open part that gives you a view of the Dragon's head.
This popular Siam Park Costa Adeje ride also attracts long lines, sometimes taking up to 40 minutes before your turn, so make sure to head there as soon as you enter the park! To get on this ride, you need to be 1.25 meters or taller.

4. Kinnaree
This 25-meter high slide is perfect for you, your friends and family as it lets you and three others get on a water toboggan sending you through a 200-meter ride. With a mixture of open slides and tunnels, you'll get to enjoy the relaxing views of the park. Don't mistake this for a boring ride though because the finale will take you to a huge tornado wave that'll make your heart skip a beat! There is no age requirement for the Kinnaree, but you have to be over 1.25 meters tall.
During peak times, lines here take up to 30 minutes so make sure you plan your ride sequence. You don't want to end up lining up for just one ride!

5. Mekong Rapids
The Mekong Rapids lets four people get on a dinghy as it pulls you down and around for over 40 seconds. The ride features small drops, not as big as Tower of Power's but enough to for you to hold your breath! The minimum height requirement is only 1.10 meters so most kids will get to experience this fast-paced waterpark Tenerife ride.
6. Singha
Singha is the newest ride of Siam Park Costa Adeje. Known as the park's roller coaster that features 14 direction changes and super fast curves, your adrenaline is guaranteed to come alive on this ride. You get through the 240-metre long slide on a toboggan that accommodates two people. Singha is unique as it can take you as fast as 18 meters per second. Minimum height for this ride is 1.25 meters.
The best way to enjoy your Siam Park Holidays would be to buy your siam park tickets ahead as these rides are very popular. TravelON World lets you book your tickets ahead of time through our website.
Family Friendly Siam Park rides
Although most visitors of this waterpark Tenerife come for the adrenaline rides, a lot of families also come to visit hoping to experience fun for the whole family. Well, this complete list of Siam Park rides would not be complete without the family-friendly rides and that's fit for the younger ones. Along with lots of chill areas to rest in, there are seven fun rides and slides that both the young and old can enjoy.
7. Naga Racer
The Naga Racer is a fun ride that lets you race on the slide. There are six side-by-side slots where you can race on a mat as you lie on your stomach. Once you and your friends are in position, the lifeguard on duty blows his whistle and you will be on your way down to the landing area. The slide is 100 metres long and takes only 15 seconds. You only need to be 1.10 meters tall to try the Naga Racer out.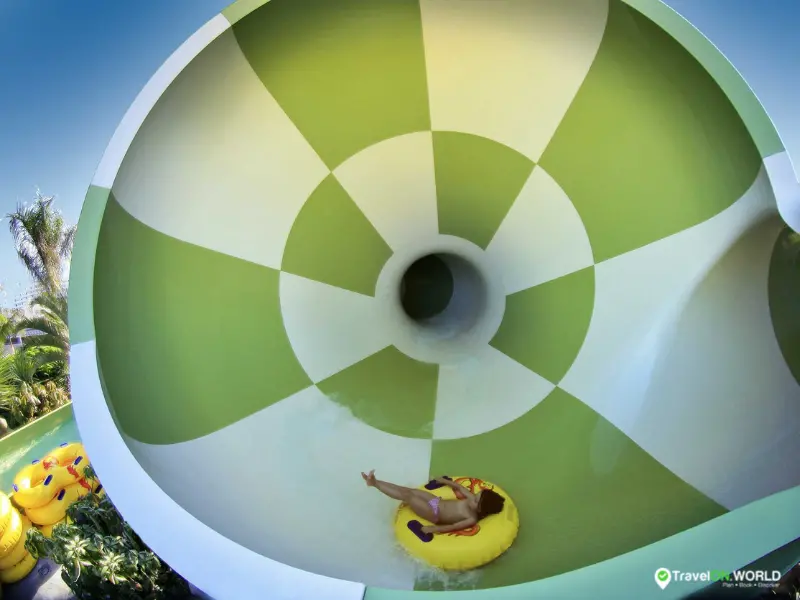 8. Sawasdee
The Sawasdee is a children's zone that has four slides, two of which are for racing. There's also a water slide track, kind of like a Naga Racer miniature so smaller kids can enjoy it too. The Sawasdee area also has a mini Dragon ride. This children's waterpark in a waterpark is the best way for parents to spend time with their kids while still having fun. There is no height requirement for this area so even the littlest ones can splash around.
9. Jungle Snakes
The Jungle Snakes slides let one or two riders go on a floater that takes you down to the landing pool in 30 seconds. Although there are some drops and glides, kids can still handle them. There are four slides that look like entangled snakes and riders do not know where each slide will take them. Although they all eventually land in the same pool, the experience is different for every slide. Minimum height requirement is 1.0 meters and children must be accompanied by adults.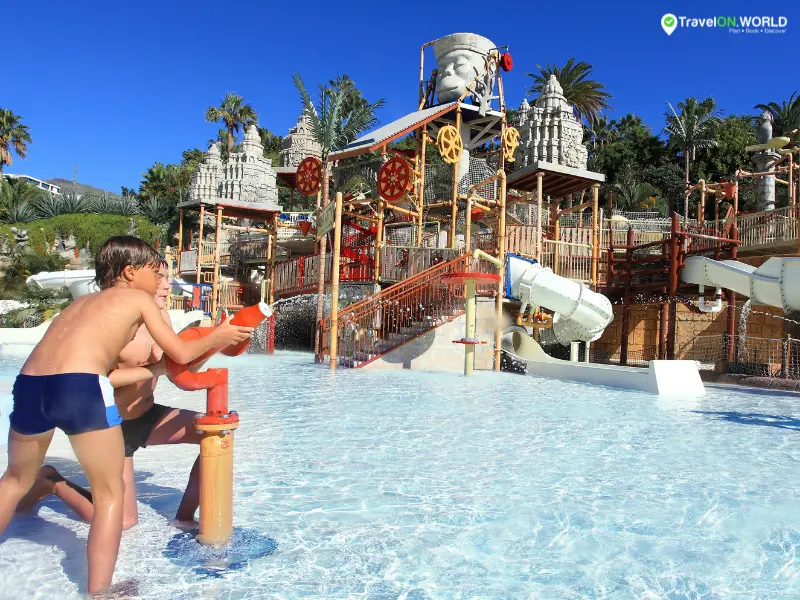 10. The Lost City
Similar to the Sawasdee, the Lost City is another area for kids, even featuring a pool that's really made for babies. This is the only waterpark Tenerife that has a baby-friendly pool. With bridges, cascades, nets, towers and a total of 15 water slides, kids will feel like they're in another world. No height requirement for this area!
11. The Giant
Also known as El Gigante, the ride splits into two slides and two bowls. Riders will sit on a single tube as they slide into a funnel, leading to a bowl which spins you around before being sucked into another funnel, landing on the pools below. The ride takes 30 seconds and you need to be at least 1.25 metres tall to try it. This ride is a fun one for families as both kids and adults will have a blast.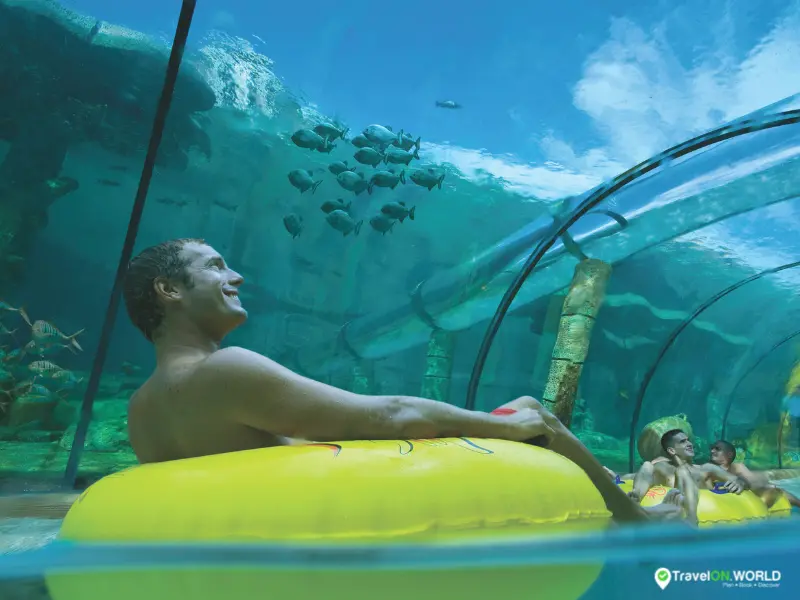 12. Mai Thai River
The Mai Thai River is a family favourite. After all the thrilling rides, relax on a tube as you let the river's current take you around. With the park's exotic views and the sound of the current slowly flowing, you will feel relaxed after one round. After going around, you can even rest on the designated relaxation area. The Mai Thai River is one kilometre long and the water temp is set at 24 degrees. Here, every spot is Instagram-worthy. Bring along a waterproof case to take your perfect selfie. To go on the Mai Thai River, you need to be 1.10 meters tall. Shorter kids can go as long as they wear a lifejacket.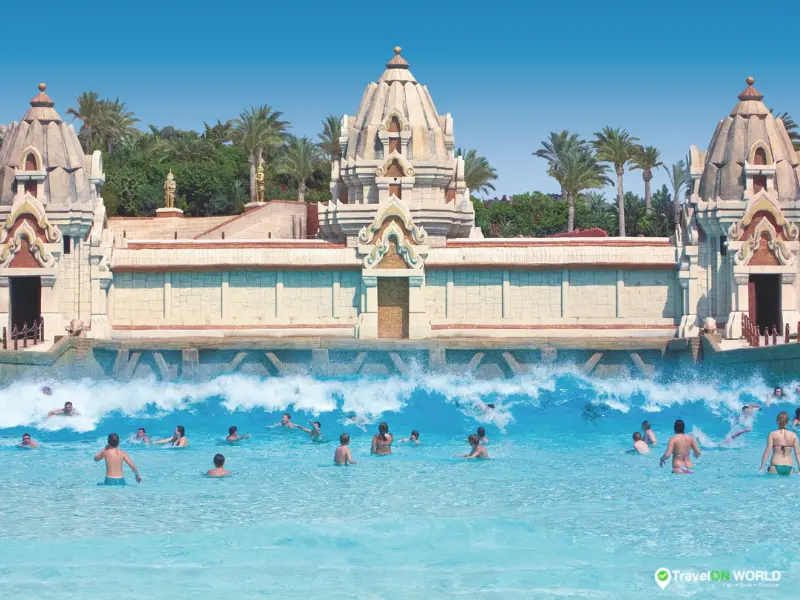 13. The Wave Palace
The last but definitely not least is the Wave Palace. Aside from the Tower of Power, this attraction is what put Siam Park Costa Adeje on the map! The Wave Palace is home to the biggest artificial waves in the world as they can rise up to 3 metres high. You can swim, paddle or just relax on the beautifully created white sands. If you want to try surfing, you can book with their office in advance. Don't worry about kids though, because on normal days the waves only rise to about 1.5 metres. The pool is set at a perfect temperature of 24 degrees Celsius.
How to plan your Siam Park Tenerife Day
Visitors of the park usually head straight to the Tower of Power because the ride doesn't accept fast pass. If you get there at 10 AM, you won't have to line up for hours. After this, you can go on to the popular rides like the Vulcano and the Dragon where you can use your fast pass. Once you've done these three rides, you can pick out which of the other rides you want to try. While this is just a suggested sequence, it all depends on the length of the lines.
To experience all these rides, you can book your Siam Park tickets in advance. When you book with TravelON World, you get a fast pass entrance ticket that lets you skip the huge lines at the entrance gate. As soon as your booking is confirmed, you will receive an e-ticket that you won't have to print. Everything is secure and guaranteed with TravelON World so you can avoid all the hassles of arranging.
We hope this Tower of Power Siam Park and 12 other rides to watch out for guide helped you plan which rides you want to go on. This waterpark Tenerife is guaranteed to offer something to enjoy for visitors of all ages, so no matter who you take with you, you will all have an unforgettable time for sure!