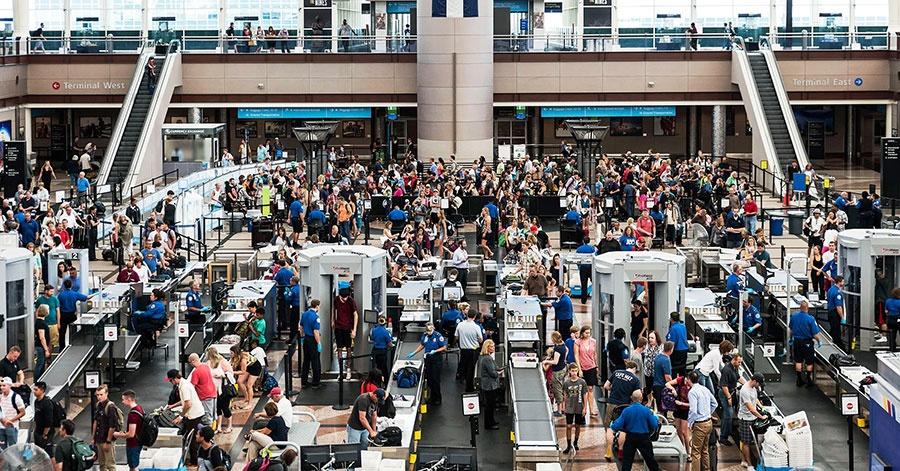 Airports - love them or hate them, they're an essential part of travelling and seeing the world. We don't always get a choice on which airport we travel to or from, but sometimes it's worth paying a little bit more to have a decent airport experience. We pulled together a list of the best and worst airports in the world so that you can make an informed decision on whether you need to pay to go elsewhere or get excited about your luxurious airport trip.
To determine this list, we looked at the five best and worst-rated airports and gathered further data including the number of dining and shopping options, and average delays, to score these airports and create a ranked list.
The Worlds BEST Airports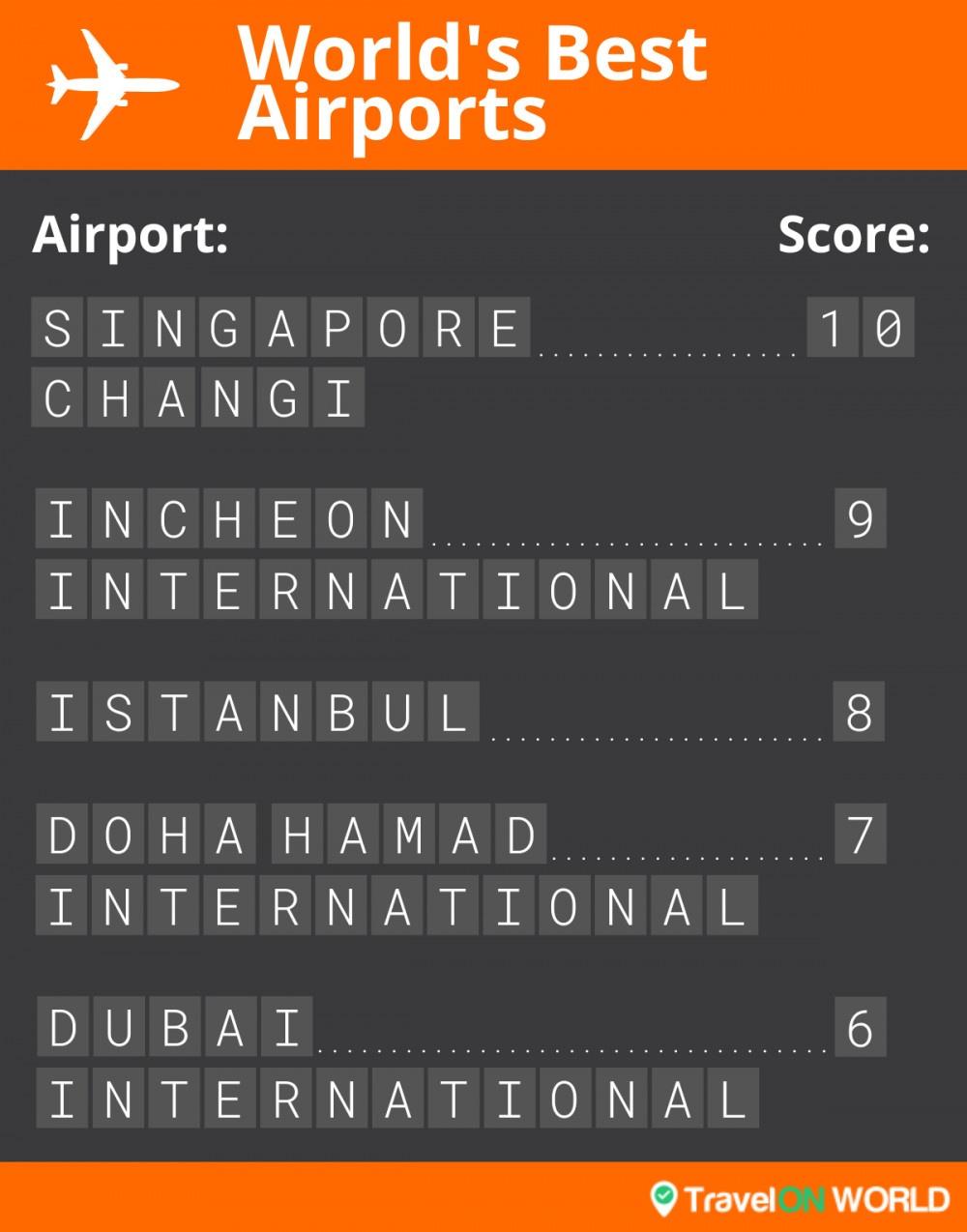 1. Singapore Changi Airport
Our score: 10/10
This Singapore airport is quite famous due to its many innovative services and experiences, including a range of gardens and parks, an indoor waterfall, and a four-storey high indoor slide!
As well as several mindblowing things to do and see around the airport, Changi also has a wide range of shopping options, with a total of 225 shopping options across the airport, and also has 171 dining options.
According to numerous reports, the security wait times at Changi airport tend to be less than ten minutes. As for flight delays, the average percentage of delays at Changi airport was 24.5% (October 2022) with an average delay time of 58 minutes.
Rating: 4.7 (/5)
Reliability: 7.5 (/10)
Shops: 225
Dining: 171
No. of airlines: 35
2. Incheon International Airport
Our score: 9/10
This is the largest airport in South Korea and also one of the largest and busiest in the world. Incheon airport certainly isn't a standard airport. It is filled with unique experiences, including art exhibitions, cultural experiences, and performances. If you're on a layover, or your flight is delayed, you could have a game of golf in their Sky72 Golf Club, watch a movie in their CGV movie theatre, or go on a free transit tour which takes you to nearby historical locations, including palaces and temples.
If you're a foodie, you will certainly enjoy Incheon airport and its 241 different dining options! There is also the opportunity for shopping, with 31 different shops.
Incheon International had an average of 26% delays, with an average delay time of 88 minutes.
Rating: 4.6
Reliability: 7.4
Shops: 31
Dining: 241
No. of airlines: 72
3. Istanbul Airport
Our score: 8/10
This is the biggest airport in Turkey, located in the country's capital. Istanbul Airport has been described as "one of the biggest meeting points in the world", where "passengers from different cultures, beliefs and lives with a common goal of getting to somewhere meet unbeknownst to one another."
The airport is filled with a wide range of facilities, including a library, museum, TV zones, sleep pods, and much more. On top of these wonderful facilities and services, this airport also has 94 shopping options and 41 dining choices. It has also been rated highly for its wait times, congestion, and cleanliness.
Istanbul airport saw an average of 29% flight delays, with an average delay time of 45 minutes.
Rating: 4.4
Reliability: 7.1
Shops: 94
Dining: 41
No. of airlines: 78
4. Doha Hamad International Airport
Our score: 7/10
The Doha Hamad International Airport is the principal airport in Qatar, and the home to Qatar's carrier airline, Qatar Airways. Despite the airport being the busiest in the country, it has been reported that the wait times are an average of only one to three minutes - this is an industry success story, and was achievable due to their highly trained staff and the installation of 49 screening lanes that operated simultaneously.
As well as the quick wait times, there is also an element of luxury at this airport, with two spas, a vitality room, and numerous quiet areas. There's also plenty to do with 90 shops and 34 dining options.
When looking into flight delays, Doha Hamad has an average of 16.5% of flights delayed, with an average delay time of 58 minutes.
Rating: 4.6
Reliability: 8.4
Shops: 90
Dining: 34
No. of airlines: 42
5. Dubai International Airport
Our score: 6/10
Dubai International is the busiest airport in the world based on international passenger traffic, with 29.1 million passengers in 2021 alone. It's easy to understand why Dubai is such a busy airport, with 92 airlines operating here.
As well as a large number of airlines and destinations coming from Dubai airport, there is also plenty to do whilst waiting for flights with four spas, a health club, picnic areas, and much more. There is also plenty of shopping and dining options with 21 shops and 43 places to eat.
As for flight delays, Dubai saw an average of 22.5% delays and an average of 42 minutes.
Rating: 4.6
Reliability: 8.2
Shops: 21
Dining: 43
No. of airlines: 92
The Worlds WORST Airports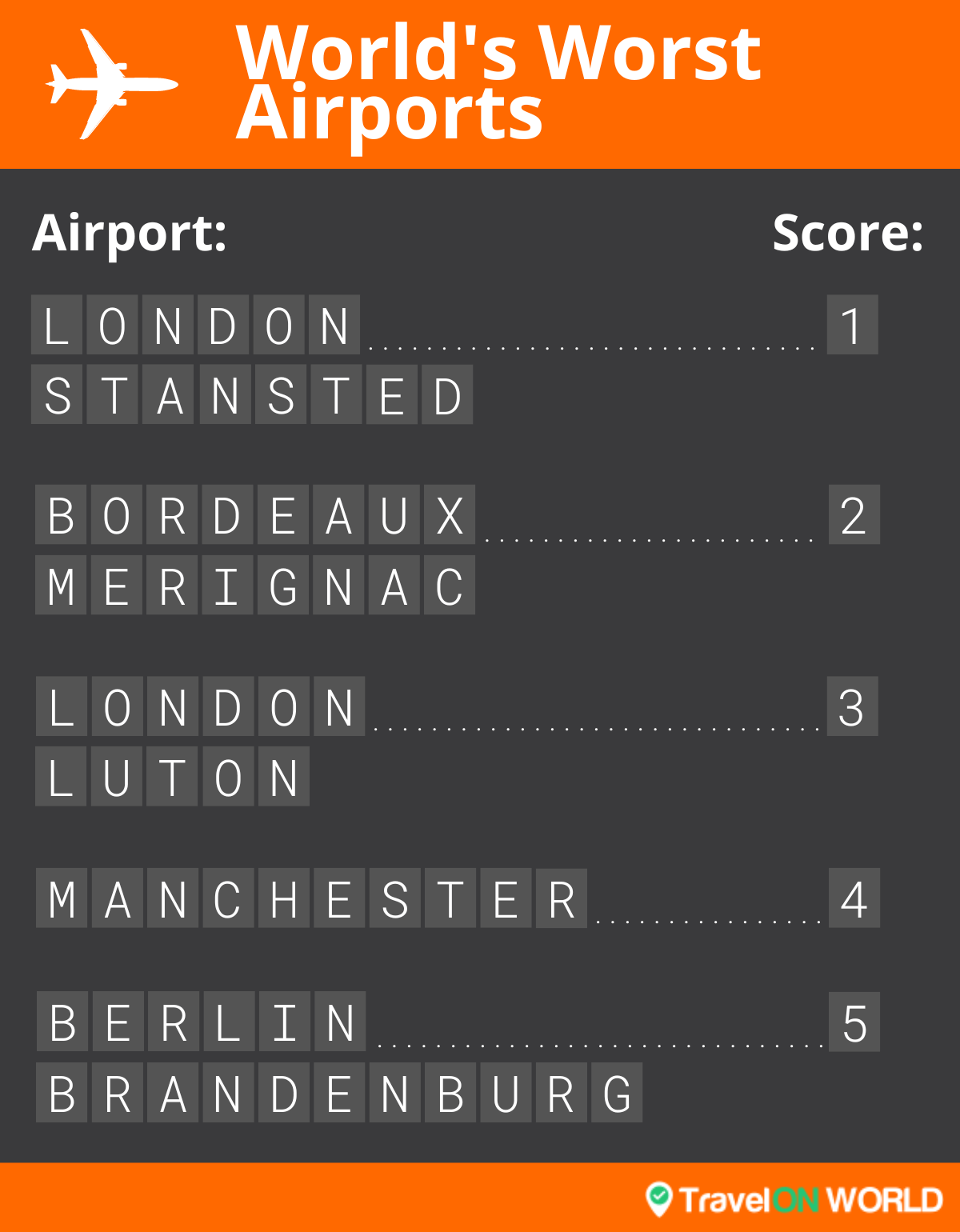 1. London Stansted Airport
Our score: 1/10
Stansted is the third biggest of the six major airports situated in London, but judging by our list, is the worst of the six.
When looking deeper into this airport's ratings and reviews, it appears that wait times, facilities, signage around the airport, and baggage delivery times are all big issues. Many Google reviewers claim Stansted is "the worst airport I've ever used." The airport has a total of 21 shops and 17 dining options.
When looking at delays for flights departing from Stansted, there was an average delay of 45.5% with an average delay time of 55 minutes.
Rating: 3.3
Reliability: 6.1
Shops: 21
Dining: 17
No. of airlines: 16
2. Bordeaux Mérignac Airport
Our score: 2/10
This France-based airport has received negative feedback regarding its wait times, lack of seating, staff friendliness, and facilities.
Despite being the fifth largest airport in France, the facilities in this airport are lacking with just nine dining options and four shops. Numerous Google reviews state that this airport lacks key facilities, such as lifts and escalators. In early 2022, Bordeaux airport released a news statement which says that they are working on accessibility, installing biometric recognition gates to speed up wait times, and other improvements.
When looking at flight delays, Bordeaux-Merignac saw a total average of 25% delayed flights, with an average delay time of 40 minutes.
Rating: 2.6
Reliability: 7.6
Shops: 4
Dining: 9
No. of airlines: 26
3. London Luton Airport
Our score: 3/10
Another London-based airport makes up our five worst airports. Luton is the fourth-largest airport in London, with around 4.3 million passenger traffic in the summer of 2022 alone.
Based on some of the negative reviews this airport has seen, Luton airport has issues with long queues and wait times, cleanliness, and facilities, with one reviewer on Google describing the airport as 'Dirty, disorganised, and chaotic." Luton airport has 24 shops and 18 dining options.
Luton airport had an average of 49% delays at an average time of 53 minutes.
Rating: 3
Reliability: 4.9
Shops: 24
Dining: 18
No. of airlines: 7
4. Manchester Airport
Our score: 4/10
This airport is one of the busiest in the UK, with 46 airlines departing from here. In recent years, this airport has been all over the press for a range of negative issues, notably extreme wait times and staff shortages.
As well as the above, Manchester airport has gained many negative reviews based on certain facilities such as the number of toilets and seating, cleanliness, and lack of relaxation or quiet areas. This airport has a total of 30 dining options and 20 shops across its three terminals.
Manchester has recently seen a high average of delays at 40.5%. The average delay time was 49 minutes.
Rating: 2.9
Reliability: 6.5
Shops: 20
Dining: 30
No. of airlines: 46
5. Berlin Brandenburg Airport
Our score: 5/10
Brandenburg airport is the closest airport to Berlin City, and is the third busiest airport in Germany - this airport only opened on 31st October 2020 and replaced Tempelhof, Schönefeld, and Tegel airports.
As this airport is new, it appears that they are continuously working on improving different factors, with more recent reviews seeming more positive, however, the airport is still rated 3.2 stars on Google, with people seeming unhappy with the lack of seating, confusing processes and layouts, and queue and wait times at security. The new airport has a total of 46 shops and 28 dining options.
As for flight delays Berlin Brandenburg had an average of 36.5% delays, with an average delay time of 40 minutes.
Rating: 3.2
Reliability: 6.7
Shops: 46
Dining: 28
No. of airlines: 18
Dave Gainford, Director of TravelON World, said: "An airport with good facilities and shorter wait times can really enhance the holiday experience. These days, it's not a matter of which is the closest to people's homes, holidayers are willing to go out of their way to have a good airport experience and to avoid the less than adequate airports."

Get the latest deals
For the latest deals on the best things to do on your holiday sign up for our newsletter, don´t worry we hate getting junk mail too so we will only send you things that are relevant to your travels, can save you money and give you ideas on excursions in destinations all around the world.