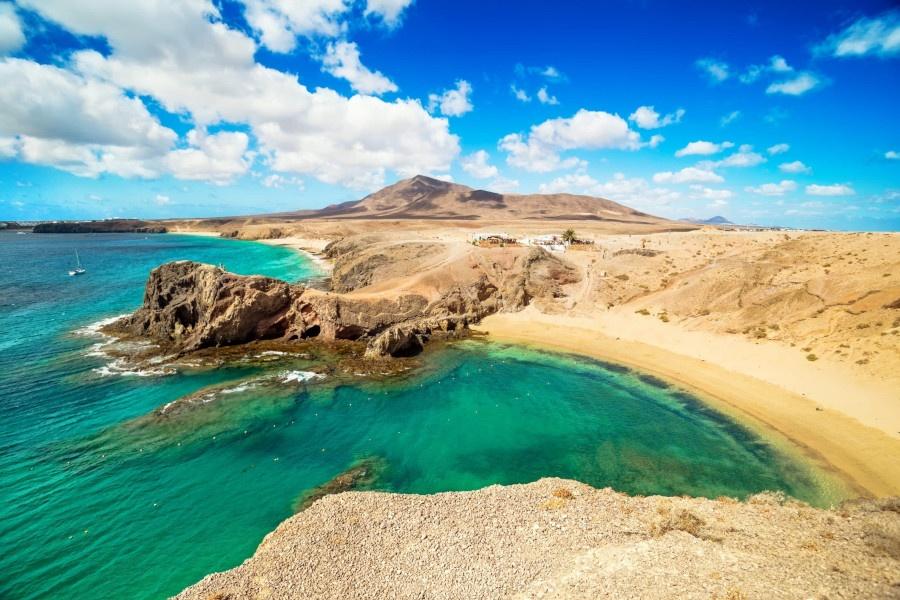 The top things to do in Playa Blanca
1. About Playa Blanca
The once small, picturesque village of Playa Blanca is now a busy resort that lines the coast on the southwestern tip of Lanzarote. It's the closest resort to the neighbouring island of Fuerteventura and on a clear day offers spectacular views over the La Bocayna Strait.
The two main features of Playa Blanca are the promenade walk in the center of town and the Marina Rubicon. Both these areas, whilst offering different surroundings, are packed with high-quality bars and restaurants.
Playa Blanca is arguably the most laid-back resort on the island and attracts - dare we say - a more mature clientele, and this is often reflected in the higher quality of the restaurants and bars.
2. Things to do in Playa Blanca - The Beaches
Playa Blanca has some of the finest beaches on the island, including the infamous beaches of Papagayo. Often referred to as Papagayo Beach, there are actually 7 different beaches stretching around the headland in a national park known as the Natural Monument of Los Ajaches. You can access these beaches via dirt track or a short clifftop walk from the nearest hotel.
Many of the best catamaran excursions in Lanzarote anchor at Papagayo due to the idyllic scenery and crystal clear waters, that allow for some fantastic snorkeling and swimming experiences.
3. Things to do in Playa Blanca. Jet Skis
Playa Blanca also has three more very popular beaches, much closer to the town center. The smallest of the three goes by the same name as the town, translated as White Beach. Playa Dorada is extremely popular with tourists and provides a safe swimming area and opportunities for Playa Blanca jet skiing and water sports. Playa Flamingo is located further to the west and whilst similar to Playa Dorada is a bit more relaxing as there are no jet skis, so tends to be more of a family favorite.
4. Things to do in Playa Blanca. Boat and Catamaran Trips
Playa Blanca has no shortage of boat and catamaran excursions. The best Catamaran trips in Playa Blanca offer onboard bars, tapas, and water sports. Enjoy snorkeling with the fish, or if you prefer, just relax and soak up the sun with the panoramic Canarian landscapes decorating the coastline.
Based in Marina Rubicon you also have the Papagayo private catamaran which is ideal for larger groups if you want a Lanzarote catamaran to yourself.
5. Things to do in Playa Blanca. Markets
Twice a week, on a Wednesday and Saturday, the Marina Rubicon is transformed into a busy paradise of artisan stalls where you can sample and purchase crafts, foods, artwork, and more, all created by the wonderfully talented Lanzarote locals. The vibrant Playa Blanca market brings the Marina to life with live music, international conversation, local art, and of course, food and drink. Whilst a market is held somewhere in Lanzarote every day, it's true that one of the best markets in Lanzarote is in fact right here in Playa Blanca.
6. Things to do in Playa Blanca. Aqua Lava Water Park
Enjoy a family day out at the Playa Blanca Aqua Lava Waterpark . The Aqua Lava waterpark is a fantastic day out for any family visiting Playa Blanca. The kids can enjoy the waterslides, wave machine, and lazy river whilst the adults enjoy a coffee at the poolside cafe or take a time out on the sun beds around the water's edge. And if you're not staying in Playa Blanca, don't worry. There is a Bus service from Puerto del Carmen and Costa Teguise, every Monday, Wednesday, and Friday. How good is that?
7. Things to do in Playa Blanca. Buggy Tours
The quad trike and buggy tours in Lanzarote are the best way to combine seeing the island and having great fun at the same time. There are a number of different types of buggy available and various locations and destinations. If you can't choose the right one for you, try them all!
8. Things to do in Playa Blanca. Lanzarote to Fuerteventura Ferry Trips
As Playa Blanca is so close to Fuerteventura, why not make the most of your trip to the Canary Islands by paying a visit to the nearest neighbour for a day. The ferry leaves Playa Blanca harbour and docks in Corralejo where you will find some first-rate bars, shops, restaurants, and beaches (if you have the time you need to visit the sand dunes and if you can find it, popcorn beach!). Whilst Fuerteventura is also a volcanic island, you might be quite surprised at how different it is from Lanzarote! With the Lanzarote ferry departing from Playa Blanca you are ideally situated to hop on and see Fuerteventura.
9. Things to do in Playa Blanca. Nightlife
Playa Blanca has an excellent live music scene, so you won't have to go far to find a bar with a very good music act. In the main town, the promenade is bursting with life on an evening as the restaurants serve up fresh fish, pasta, and steaks to diners who soak up the atmosphere after a busy day on their feet.
The best Bars, Karaoke and Nightclubs in Playa Blanca
For the budding stars amongst you you'll find Karaoke at a number of bars throughout the week and many will also show you the major live sports events. For the best nightclubs in Playa Blanca head to the Centro Commercial Papagayo (behind Dorada Beach) where you can continue your party into the early hours of the morning. Whilst Playa Blanca is the smallest resort in Lanzarote, it doesn't mean there is any shortage of things to do. It's a busy little resort bursting with life with great connections and excursions available to the rest of the island

Frequently asked questions for Things to do in Playa Blanca Lanzarote
Playa Blanca is on the most South West Point of the island of Lanzarote.
Is Playa Blanca a good place for couples holidays?
Yes. Playa Blanca offers a perfect mix of bars, restaurants, chill out areas and more for couples who want to holiday in Lanzarote.
Can you travel to Fuerteventura from Playa Blanca?
You sure can. You can travel to Fuerteventura from Playa Blanca via the regular ferry crossings from the Playa Blanca harbour.
Is Playa Blanca good for nightlife?
Yes. Nightlife in Playa Blanca is very good, with a good selection of live music, karaoke bars and restaurants. There are also a couple of night clubs in the Papagayo Centre that party on into the early hours.
How far is Playa Blanca from the airport?
Depending on traffic, and mode of transport, Playa Blanca is about 34km away and it can take between 30-40 mins to travel.