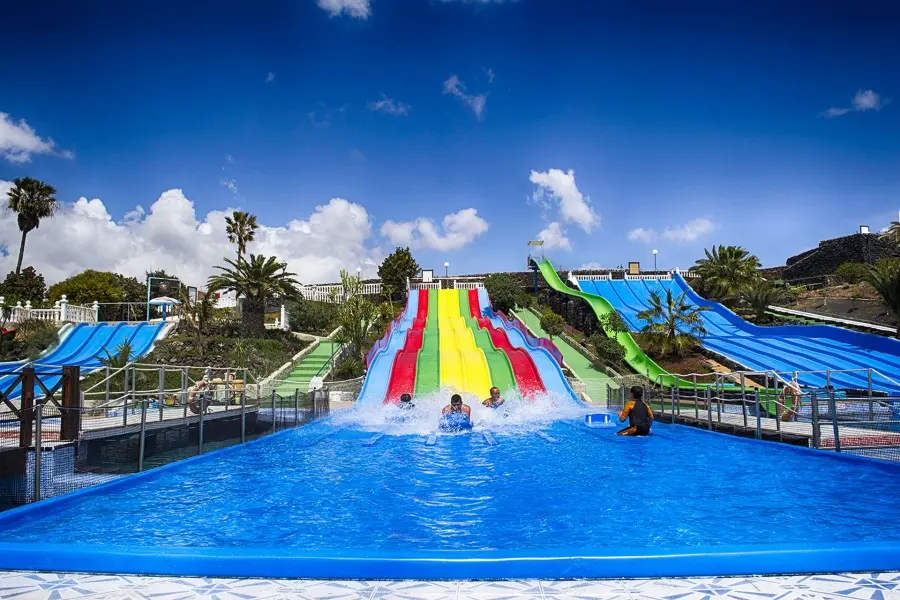 The best things to do in Costa Teguise
1. Things to do in Costa Teguise.
A firm favourite with young families and couples, Costa Teguise is a purpose built resort on the East coast of Lanzarote that has evolved over the decades. It's now a vibrant destination with a fantastic choice of restaurants and bars, golden sandy beaches and an abundance of things to do. What makes Costa Teguise slightly different to the other resorts on the island is the way that it's split into different areas, each serving the locals and guests staying close by. If you are looking for things to do in Costa Teguise, you won't have to look too far.
2. Things to do in Costa Teguise. The Aquarium
With over 1 million litres of water, the Costa Teguise Aquarium (one of the largest in the Canary Islands!) gives families an insight into underwater life and different species from small local fish to larger ocean predators. It's truly a great, educational experience for the children, and maybe even the adults! It's at the top of the list of things to do in Costa Teguise.
3. Things to do in Costa Teguise. The WaterPark
Costa Teguise is home to the largest water park in Lanzarote. If you're looking for something to do in Costa Teguise then add this to your list. Suitable for families and children of all ages, the Costa Teguise waterpark has over 18 different attractions including slides and rapids, the aqua racer and Cine 10d. Don't worry if you're not staying in Costa Teguise; there is a bus that runs from Playa Blanca and Puerto del Carmen. There is also a snack bar and restaurant on site, so why not make a day of it?
4. Things to do in Costa Teguise. Buggy Tours
If you prefer to spend your time on four wheels, then a buggy tour experience is right up your street. These off-roaders are a great way to discover the real Lanzarote as they take you away from the main roads, into the hills and along hidden coastal paths. With different types of Lanzarote buggies available they are must do experiences for couples, lads and dads or small groups and families.
5. Things to do in Costa Teguise. The best wind surfing in Lanzarote
Due to the Eastern location of Costa Teguise, it's a popular area for wind surfing. If water sports are your thing, then Costa Teguise is an excellent place to base yourself when visiting the island of Lanzarote.
6. Things to do in Costa Teguise. Teguise Market
Whilst Costa Teguise is often wrongly referred to as Teguise, the small town bearing that name was actually once the capital of Lanzarote. Today it's a typically sleepy Canarian village, that comes alive on a Sunday as the streets are lined with stalls of local gifts, foods and crafts. Enjoy food from around Europe and soak up the atmosphere of the largest open air market in the Canary Islands. You can visit the market by organised excursion, or travel by car. Parking is plentiful and costs just a few euros.
7. Things to do in Costa Teguise. La Graciosa Catamaran Cruise
Whilst there isn't a Catamaran excursion that departs directly from Costa Teguise, this is a trip that you really can't miss out on. La Graciosa is an island just off the North Coast of Lanzarote. It was recently declared the 8th Canary Island and is inhabited by around only 500 people. It's largely undeveloped with just two small villages and is home to some of the finest, unspoilt beaches and waters you will find. The La Graciosa Catamaran trip is the best way to experience the island from the water. Not only will you enjoy the stunning surroundings, clear waters and sandy beaches, but you can also indulge at the onboard bar and try the freshly cooked food. Without question, it really is the best Catamaran trip in Lanzarote.
8. Things to do in Costa Teguise. Nightlife
The best restaurants in Costa Teguise
You won't have to venture far to find a fantastic bar or restaurant in Costa Teguise. The promenade has a handful of excellent eateries and you'll find cuisine for every occasion. There are menus to suit all budgets and palates and you'll find a diverse selection of cuisines from around the world
The best bars in Costa Teguise
If it's the vibrant nightlife you're looking for, Costa Teguise really has it all. From Karaoke to busy dance floors there are plenty of venues to choose from. The only real question is, how long can you party?
9. The best hotels in Costa Teguise
There is an impressive selection of hotels to choose from in Costa Teguise, each offering its own excellent facilities and in very different locations. As we said before the resort is largely broken down into mini regions and your choice of the hotel could be influenced by which part of Costa Teguise it's in. What we can say is that they all offer first class accommodation and provide a perfect base when on holiday in Costa Teguise, Lanzarote. In summary, there are so many things to do in Costa Teguise. It's a family friendly resort, with golden sands, an excellent choice of restaurants and vibrant nightlife. And when you're looking for something to do in Costa Teguise, you can extend your possibilities and hire a car or take an excursion to the nearby Cactus Gardens, Jameos del Agua or The Green Caves. Have a great holiday!
Frequently asked questions for Things to do in Costa Teguise
Is Costa Teguise a good place for family holidays?
Yes. Costa Teguise is a great place for Family Holidays with plenty of things to do, excursions and family friendly restaurants available to all.
Costa Teguise is on the East Coast of Lanzarote.
Is there a good choice of restaurants in Costa Teguise?
Yes, there is a large and diverse selection of restaurants and cuisines in Costa Teguise with something for everyone.
Is there a good beach in Costa Teguise?
Yes, Costa Teguise has a great beach with golden sands and a bay protected by a breakwater.
Do Excursions pick up and drop off at Costa Teguise?
Yes. Costa Teguise is a major resort on the island and you can arrange for excursions to collect you and drop you off at, or very near to, your accommodation.
How far is Costa Teguise from the airport?
It takes about 15 to 20 mins to get from Lanzarote Airport to Costa Teguise, depending on traffic.